Pakistan - Inde - Iran - Chine - Japon - USA - Corée du sud

Pan-S.Korea solution Commitee against US base extension in Pyeongtaek
The National Campaign for Eradication of Crimes by U.S.Troops in Korea
"The USFK(United States Forces in Korea) has been stationed in South Korea since 1945. Presently, there are 96 bases of 74 million pyong (one pyong = 6 sq feet) occupied by 37,000 U.S. troops in South Korea. The long history of the USFK in South Korea has greatly influenced our society. Statistically, people bound by SOFA (soldiers, civilian components, their families and their relatives) have committed about 2 crimes against Korean citizens a day. Hence there have been over 100,000 cases of criminal acts since 1945. Nevertheless, Korean courts have only judged around 10% of these crimes (confined to US soldiers). In most other cases, U.S. soldiers who have committed crimes against the Korean people, have been released without punishment or due compensation to the victims. Moreover, the USFK has polluted our environment and undermined our culture. They have started a black market for the illegal trafficking of PX goods. There is also the issue of Korean-American (Amerasian) children abandoned by their U.S. GI fathers and the problems related to the stunted development of the "Keejichon" ("military base towns") surrounding the U.S. bases. These problems are a direct result of the unequal Status of Forces Agreement (SOFA), which has affected our society severely. As a result of the lack of discipline those affiliated with the U.S. army act arrogantly towards Koreans. Thus, we are not only referring to the victims of crimes by U.S. troops against Koreans, but we are also talking about the human rights of all Korean citizens and our autonomy as a nation. This is a national issue that can no longer be pushed aside. In order to regain our genuine independence, after over 50 years of enduring damage and injury directly inflicted by the U.S. military, we are taking a small first step. This very step is "The National Campaign for Eradication of Crime by U.S. Troops in Korea...."


Understanding the United States through the Crimes Committed by its Troops in Korea by Lee Sohee (Secretary-General, National Campaign for Eradication of Crimes by U.S. Troops in Korea )
"From 'liberator', 'ally', and 'blood brother' to 'occupying force' and 'source of all evil'could Korean public opinion be split so differently on the issue of the United States? This inevitably means that there must be a concealed and distorted history.
A History of Crimes by U.S. Troops in Korea
"In modern Korean history, the U.S. troops first stepped on Korean soil on September 8, 1945 at the port of Incheon. Many Koreans welcomed the 'liberators' that had saved Korea from the Japanese occupation. Soon that welcome faded, however, when Koreans realized that the US military was to be stationed in Korea as an occupier as well.
Afraid of possible interruptions to the landing operation, American forces arranged for the remnants of the Japanese military and police to keep Koreans indoors. When some Koreans gathered at Incheon port to welcome the U.S. troops, Japanese police shot two Koreans to death and ten were injured for trespassing. Against the protest of Koreans, the U.S. authorities ruled in favor of the Japanese police, saying the incident happened in the interests of public order. This is recorded today by advocacy groups as the first crime by U.S. troops in Korea. The charge level is 'aiding and abetting homicide.'In the intervening fifty-six years, many other crimes have been committed by U.S. troops. According to official Korean government statistics, roughly 52,000 crimes were committed by the U.S. troops and civilians related to the U.S. military from 1967 to 2002. Some 59,000 U.S. servicemen were involved in these crimes. When one considers that not all crimes are reported to the police, it is not difficult to imagine that there are in fact more crimes. Based on the statistic above, it is estimated that there would be more than 100,000 crimes by U.S. troops in Korea since their stationing in 1945. U.S. troops in Korea have committed about 700 crimes every year. In a word, they usually commit 2 or 3 crimes everyday..."


fall and winter in Daechuri


No Crimes by U.S.Troops! (Chronologie des actes criminels en Corée du Sud)


Save the pyeongtaek farmers
Linked222 soutient la campagne internationale de Friends of the Earth International-Mother Earth contre l'expansion des bases américaines en Corée du Sud et l'expulsion des paysans de Pyeongtaek, des villages de Daechuri et de Doduri : Send a letter to President Bush, President Roh Moo-hyun, Minister of Defence, Yoon Kwang-woong to stop the unjust eviction of farmers for the planned expansion of the U.S. military base Camp Humphreys in Pyeongtaek.
The origins of US Bases in Pyeongtaek
1) Sino-Japanese War and Russo-Japanese War
Foreign bases in Pyeongtaek first arrived during the Sino-Japan War. From 1894-95, in an attempt to take control of Korea, China and Japan went to war. However, the war took place neither in China or Japan, but in Korea.
War broke out between the two countries, and Japan emerged in a great victory. One can only imagine how hard both sides fought. Even today, through oral history, people describe the fighting as if the "city of Asan and Pyeongtaek were ready collapse."
From 1904-05, Japan waged a war with Russia in the (Russo-Japanese War). Again, however, this war was fought not on Japanese or Russian soil, but in Korea. Pyeongtaek again became an outpost for foreign military bases.
2) Construction of Japanese Bases in Paengsong, Anjungri and Daechuri
Emerging victorious from two wars, Japan was able to use Korea as a stepping stone for its colonial advance. Thus during the early years of World War II, in 1941, the Japanese established bases in Paengsong and Anjungri. If Pyeongtaek residents survived the initial occupation, they were mobilized by the Japanese to aid in the construction of bases. The equipment they used were nothing more then picks and shovels. Using human strength, hangars and bases were built where farms and hills existed. Many people also died as parts of mountains collapsed while digging roads. Japanese bases occupied an area of about 300,000-400,000 pyeong. Residents were forced off the land, but despite stripping away their land, they were not compensated a single penny...."


Is the Bush Administration Planning a Nuclear Holocaust? Will the US launch "Mini-nukes" against Iran in Retaliation for Tehran's "Non-compliance" ?
by Michel Chossudovsky February 22, 2006
"As in the case of the first atomic bomb, which in the words of President Harry Truman "was dropped on Hiroshima, a military base", today's "mini-nukes" are heralded as "safe for the surrounding civilian population".
Known in official Washington, as "Joint Publication 3-12", the new nuclear doctrine (Doctrine for Joint Nuclear Operations , (DJNO) (March 2005)) calls for "integrating conventional and nuclear attacks" under a unified and "integrated" Command and Control (C2).
It largely describes war planning as a management decision-making process, where military and strategic objectives are to be achieved, through a mix of instruments, with little concern for the resulting loss of human life.
Military planning focuses on "the most efficient use of force" , -i.e. an optimal arrangement of different weapons systems to achieve stated military goals. In this context, nuclear and conventional weapons are considered to be "part of the tool box", from which military commanders can pick and choose the instruments that they require in accordance with "evolving circumstances" in the war theater. (None of these weapons in the Pentagon's "tool box", including conventional bunker buster bombs, cluster bombs, mini-nukes, chemical and biological weapons are described as "weapons of mass destruction" when used by the United States of America and its coalition partners). ..."


India, China and the Asian axis of oil
The new Sino-Indian partnership could serve as the foundation for an Asian Energy Union and much more.Tuesday, Jan 24, 2006 (THE Hindu) Siddharth Varadarajan
" Asian oil market in euros?
Above all, India and China need to keep in mind the big picture — the evolution of an Asian market for crude and products with long-term supply contracts and stable prices, and, eventually, an Asian Energy Union. As Mr. Aiyar pointed out in a lecture to Chinese energy specialists in Beijing, the European Union started life as a coal and steel union before growing eventually into a full-fledged economic and political community. Could energy play the same role in Asia with India and China serving as sheet anchors in the way France and Germany did in Europe? With India and China committed to building strategic petroleum reserves, South Korea offering to work on an `Inter-Asia Oil and Gas Transportation System,' and Iran planning its own hydrocarbon bourse, such an idea is no longer far-fetched.
Linked to an Asian oil market is the billion euro question of non-dollar denominated energy trade. Asian countries collectively hold more than two trillion dollars worth of foreign reserves, the overwhelming share of which is in dollar-denominated instruments. Prudential norms suggest the diversification of the Asian reserve portfolio is overdue. In China, the State Administration of Foreign Exchange (SAFE) has signalled its intention to explore the more "efficient use" of the country's forex reserves and in India, commentators like S. Venkitramanan (see `Playing it Safe — Lessons from China's reserves management,' The Hindu Business Line, January 23, 2006) have suggested the RBI start thinking along similar lines..."


Iran-India-Pakistan Gas Pipeline Project March 18, 2006, The Hindu
"New Delhi is hopeful that "ways and means" can be found to involve Moscow in the construction of the proposed Iran-Pakistan-India gas pipeline project, Prime Minister Manmohan Singh said after talks with Russian Premier Mikhail Fradkov.
Taking questions, Dr. Singh thanked Moscow for agreeing to supply uranium fuel for the safeguarded reactors of the Tarapur atomic power station, stressing that India looked forward to working with Russia bilaterally and multilaterally.
Senior officials said enhanced civilian nuclear cooperation figured in the talks between Dr. Singh and Mr. Fradkov even as Russia was awaiting the U.S. Congress approval of the New Delhi-Washington nuclear deal and the lifting of curbs by the Nuclear Suppliers' Group.
On the gas pipeline from Iran, India was desperately short of hydrocarbons and was interested in entering into both bilateral and multilateral arrangements to address the issue.Both Dr. Singh and Mr. Fradkov stressed the importance of building business-to-business links for India and Russia to enjoy a healthy trade relationship. Dr. Singh said they had set a trade target of $10 billion for the next five years...."


Histoire
"Truman, criminel de guerre, criminel contre l'humanité"
Au regard d'une thèse récente le président américain Harry S. Truman responsable politique de l'atomisation de la population japonaise en 1945 serait un parfait criminel de guerre et un parfait criminel contre l'humanité.
La thèse que se partagent plusieurs historiens japonais et américains est construite sur "l'option russe pour la fin de la guerre", entendons pour la capitulation définitive du Japon impérial. Elle se résume à l'entrée en guerre de l'armée rouge de Staline contre le Japon. Un allié providentiel pour les Etats-Unis et la Grande Bretagne qui acceptera durant la conférence de Postdam (juillet 1945) de s'engager dans le conflit.
Si cette thèse de "l'option russe" basée sur des documents d'archive récents par l'historien américain Gar Alperovitz, largement partagée par les historiens de la guerre et des grands procès Suyoshi Hasegawa, Herbert Bix, Ernest R. May ou encore par Barton Bernstein, cela signifierait que l'atomisation n'était pas un moyen militaire approprié pour arrêter le Japon et la guerre proprement dite. L'atomisation, en terme de défense, n'était pas justifiée...
Si l'on s'en tient aux propos des historiens archivistes les Etats-Majors des nations belligérantes disposaient des mêmes matériaux de recherche et d'évaluation de l'évènement. Ils se résument à "le Japon est acculé à la rédition".
L'efficacité des blocus aériens ou martitimes, l'effondrement des alliés de l'empire, l'épuisement militaire et civile de l'archipel conduiront à cette conclusion partagée par les stratèges politiques, militaires et du renseignement.
Le journal de Postdam du président Truman, perdu en 1945 puis retrouvé en 1979, dévoilera : " (Staline) sera engagé dans la guerre japonaise en août (1945)". Ce nouvel allié providentiel était censé garantir le dernier acte sans l'atomisation. Un allié militaire dont l'entrée en guerre contre le Japon sera estimée en fait en terme de psychologie militaire. Le coup de grâce...
29 avril 1945: le Joint Intelligence Committee (JIC) informant le Joint Chiefs of Staff américain partagera déjà ces conclusions que Truman ne pouvait ignorer (Rossevelt est décédé le 12 avril). "L'entrée en guerre de Staline conduira le Japon à la défaite".
11, 12, 14 mai 1945: le Conseil Suprême du Japon pour la Direction de la Guerre conclura lors d'un Conseil : "Le Japon combat déjà les Etats-Unis et la Grande-Bretagne, un conflit avec la Russie conduira le pays inévitablement à la défaite... "
18 juin 1945 : le général Marshall écrit à Truman : "l'entrée de la Russie dans la guerre contre le Japon sera décisif et conduira le Japon à la capitulation..."
8 juillet 1945 : l'US-British Combined Intelligence Committee dans un bulletin d'évaluation de la situation écrira : "(Nous avons toutes les raisons) de croire qu'une portion considérable de japonais considère la défaite militaire du Japon comme inévitable..." Cette évaluation s'appuira une nouvelle fois sur la désolation japonaise dûe au blocus maritime, aux bombardements stratégiques responsables de millions de homeless et à la destruction de 25% à 50% des constructions civiles des plus importantes villes. Le Comité spécial ajoutera :"l'entrée en guerre de la Russie précipitera inévitablement le Japon dans la défaite".
Mi-Juillet 1945, Postdam, le général britannique Hastings Ismay, chef du conseil du ministre de la Défense résume à Winston Chruchill (remplacé par Clement Attlee le 28 juillet) les évaluations des services de renseignements anglo-américains :" l'entrée en guerre de la Russie contre le Japon conduira au renversement de l'empereur"...
Un document top-secret de 1946 du Département américain de la guerre dévoile il y a quelques années seulement :" les leaders japonais ont décidé de se rendre et cherchent les bons arguments pour convaincre ce qui reste de leurs armées d'accepter la défaite et la capitulation devant les alliés... L'entrée en guerre de la Russie en août sera sans aucun doute (le meilleurs) argument..."
Truman, criminel de guerre et contre l'humanité, oui, sans aucun doute. D'aucuns pensent que l'atomisation concernerait davantage l'effet de collaboration avec Staline et une mise en garde contre Staline pour prévenir la communisation de l'Europe...
Autre point, selon le physicien Leo Szilard (1898-1964) collaborateur d'Albert Einstein et de John von Neumann, la réalisation de la réaction enchaîne à partir de l'uranium en 1939 sera un prétexte pour la course au nucléaire militaire entre les puissances rivales avec tout ce que cela implique en terme d'expansion ...
La logique utilitariste ou instrumentaliste du président Truman qui prend sa source dans "l'économie du bien-être américain" lisible tant dans l'histoire des Etats-Unis que dans les accords de Bretton Woods et les objectifs de la reconstruction mondiale de 1944, refuse de considérer que le respect et la violation des droits civils des japonais non-combattants puisse entrer dans l'évaluation de l'hypothèse nucléaire militaire. Elle refuse toute analyse des conséquences.
L'évaluation morale se fait indépendament des droits et prend sa source dans l'information relative à l'utilité "le plaisir de vivre dans un monde libre" (après le nazisme et l'impérialisme, après le communisme, aujourd'hui, après l'islam associé au terrorisme). Nous voyons que G.W. Bush en 2006 ne fait pas moins... au nom du "bien-être américain mondialisé".
Une telle "évaluation morale Truman", instrumentale, issue de "l'économie du bien-être" post Roosevelt, présuppose que les pertes subies par les victimes japonaises soient comparées aux gains enregistrés par les violateurs du droit (droit civil, droit de la guerre, droit humanitaire) en terme d'utilité relative.
Il existait, donc, de bonnes raisons morales pour "atomiser les japonais/menacer la communisation de l'Europe"... leur perte d'utilité étant jugée inférieure au gain d'utilité américain :"le plaisir de vivre dans un monde libre".
En terme de droit, de morale et de justice il nous apparaît important d'insister sur le fait que puisque le monde vit à cheval sur la conception instrumentale, utilitariste voire déontologique de "l'économie du bien-être américain", plus que jamais les procès faits aux armements, aux armements nucléaires et post nucléaires doivent être gagnés. Si l'on en croit un jugement du Tribunal International de La Haye du 8 juillet 1996, les armes nucléaires seraient déclarées illégales.(C.Pose, 22/8/2006)



HIROSHIMA : By any means necessary : the United States and Japan
If Hiroshima and Nagasaki had not worked, the US had a plan that involved massive use of chemical weapons by Paul Rogers August 24, 2005, Open Democracy
"The dropping of the atomic bombs on Hiroshima and Nagasaki in August 1945 remains a focus of historical controversy even sixty years later. Until the 1970s, most historians accepted the view that the weapons were used to prevent the need for an American invasion of the Japanese mainland scheduled to start in November 1945. Subsequently, "revisionist" critics argued that there were other motives, not least the need to bring the war to an early end because of the rise of Soviet influence in the region. In this view , Hiroshima and Nagasaki were early shots in the cold war, at a time when Japan was actually close to surrender..."


Hiroshima: New Facts & Old Myths by Gar Alperovitz
"60 years after the atomic bombing of Hiroshima, the event still arouses controversy and passionate perspectives. Ever since the Enola Gay dropped the bomb on Hiroshima on 6 August 1945, questions surrounding the first use of what is now called weapons of mass destruction persist. Advocates say it quickly ended the war and saved a million U.S. casualties. Critics argue that Japan was essentially defeated and looking for a settlement. They also say the bomb was really about setting the stage for post-war power relations with the Soviet Union. New research and declassified government documents have shed much light on why the bomb was dropped..."


Gar Alperovitz , une biographie complète et une série significative d'articles, notons pour la petite histoire que Gar Alperovitz est un habitué de Brookings Institution, qu'il a été Legislative Director à la Chambre des Députés et au Sénat et Conseiller spécial au Département de la Défense...


Hiroshima After Sixty Years: The Debate Continues
by Gar Alperovitz
" This weekend marks the 60th anniversary of the August 6, 1945 bombing of Hiroshima. One might think that by now historians would agree on all the fundamental issues. The reality, however, is just the opposite: All the major issues involved in the decision are still very much a matter of dispute among experts. An obvious question is why this should be so after so many years.
Did the atomic bomb, in fact, cause Japan to surrender? Most Americans think the answer is self-evident. However, many historical studies–including new publications by two highly regarded scholars--challenge the conventional understanding. In a recently released Harvard University Press volume drawing upon the latest Japanese sources, for instance, Professor Tsuyohsi Hasegawa concludes that the traditional "myth cannot be supported by historical facts." By far the most important factor forcing the decision, his research indicates, was the Soviet declaration of war against Japan on August 8, 1945, just after the Hiroshima bombing...
Many Japanese historians have long judged the Soviet declaration of war to have been the straw that broke the camels back–mainly because the Japanese military feared the Red Army more than the loss of another city by aerial bombardment. (They had already shown themselves willing to sacrifice many, many cities to conventional bombing!)
An intimately related question is whether the bomb was in any event still necessary to force a surrender before an invasion. Again, most Americans believe the answer obvious–as, of course, do many historians. However, a very substantial number also disagree with this view. One of the most respected, Stanford University Professor Barton Bernstein, judges that all things considered it seems "quite probable–indeed, far more likely than not–that Japan would have surrendered before November" (when the first landing in Japan was scheduled.)
Many years ago Harvard historian Ernest R. May also concluded that the surrender decision probably resulted from the Russian attack, and that "it could not in any event been long in coming." In his new book Hasegawa goes further: "[T]here were alternatives to the use of the bomb, alternatives that the Truman Administration for reasons of its own declined to pursue..."


"THE DECISION TO USE THE ATOMIC BOMB" by GAR ALPEROVITZ AND THE H-NET DEBATE
"THE RUSSIAN OPTION" FOR ENDING THE WAR
(Partial listing:See Chapters 7, 8, 9, 18 and 23 for an extended discussion)
" As early as April 29, 1945 the Joint Intelligence Committee (JIC) informed the Joint Chiefs of Staff that increasing "numbers of informed Japanese, both military and civilian, already realize the inevitability of absolute defeat."
The Committee further advised that:
The increasing effects of air-sea blockade, the progressive and cumulative devastation wrought by strategic bombing, and the collapse of Germany (with its implications regarding redeployment) should make this realization widespread within the year.
The JIC pointed out, however, that a Russian decision to join with the U.S. and Britain would have enormous force--and would dramatically alter the equation:
The entry of the U.S.S.R. into the war would, together with the foregoing factors, convince most Japanese at once of the inevitability of complete defeat...
At a meeting of the Japanese Supreme Council for the Direction of the War held on May 11, 12, and 14, a formal Council decision was taken stating:
While Japan is fighting with the U.S. and U.K., once the Soviets enter the war Japan will face inevitable defeat; therefore, whatever happens in the war with the U.S. and U.K., Japan has to try as much as possible to prevent the Soviet Union from entering the war...
On June 18 General Marshall advised President Truman directly that "the impact of Russian entry [into the war] on the already hopeless Japanese may well be the decisive action levering them into capitulation at that time or shortly thereafter if we land in Japan...
On July 8 the U.S.-British Combined Intelligence Committee completed a formal "Estimate of the Enemy Situation." This high-level document included the following assessment:
We believe that a considerable portion of the Japanese population now consider absolute military defeat probable. The increasing effects of sea blockade and the cumulative devastation wrought by strategic bombing, which has already rendered millions homeless and has destroyed from 25% to 50% of the builtup areas of Japan's most important cities, should make this realization increasingly general.
The committee also stressed the judgment that:
An entry of the Soviet Union into the war would finally convince the Japanese of the inevitability of complete defeat...
At Potsdam in mid-July Britain's General Hastings Ismay, chief of staff to the minister of defence, summarized the conclusions of the latest U.S.-U.K. intelligence studies for Prime Minister Churchill in this way:
. . . [W]hen Russia came into the war against Japan, the Japanese would probably wish to get out on almost any terms short of the dethronement of the Emperor... "


"Racing the Enemy: Stalin, Truman, and the Surrender of Japan" by Tsuyoshi Hasegawa
" With startling revelations, Tsuyoshi Hasegawa rewrites the standard history of the end of World War II in the Pacific. By fully integrating the three key actors in the story--the United States, the Soviet Union, and Japan--Hasegawa for the first time puts the last months of the war into international perspective.
From April 1945, when Stalin broke the Soviet-Japanese Neutrality Pact and Harry Truman assumed the presidency, to the final Soviet military actions against Japan, Hasegawa brings to light the real reasons Japan surrendered. From Washington to Moscow to Tokyo and back again, he shows us a high-stakes diplomatic game as Truman and Stalin sought to outmaneuver each other in forcing Japan's surrender; as Stalin dangled mediation offers to Japan while secretly preparing to fight in the Pacific; as Tokyo peace advocates desperately tried to stave off a war party determined to mount a last-ditch defense; and as the Americans struggled to balance their competing interests of ending the war with Japan and preventing the Soviets from expanding into the Pacific..."


EXCERPTS FROM DIARIES AND PAPERS RELATING TO THE ATOMIC BOMBING OF JAPAN



Dellinger : Remembering a Nonviolent Warrior (6/04) Written by GREG GUMA

Dellinger on Hiroshima and Nagasaki 9, 2005


USA
U.S. Nuclear Weapons Guidance
Although often seen as static and slow to change, U.S. nuclear weapons policy is actually subject to frequent updates via guidance documents that change the posture of the weapons and the doctrine that guide their use. This chronology lists the major known nuclear weapons guidance issued by the White House and the military since the Bush administration took office in 2001 : U.S. Nuclear Weapons Guidance
Although often seen as static and slow to change, U.S. nuclear weapons policy is actually subject to frequent updates via guidance documents that change the posture of the weapons and the doctrine that guide their use. This chronology lists the major known nuclear weapons guidance issued by the White House and the military since the Bush administration took office in 2001 : The nuclear information

Report : Global Strike Chronology

At the end of September 2006, the Joint Functional Component Command for Space and Global Strike is scheduled to achieve Full Operational Capability (FOC). That event builds on Global Strike capabilities developed over many years to provide new offensive strike options to the President against proliferators of weapons of mass destruction.

US Chemical Corps
"The Chemical Warfare Service was established on June 28, 1918, combining activities that until then had been dispersed among five separate agencies of Government. It was made a permanent branch of the Regular Army by the National Defense Act of 1920. In 1945, it was redesignated the Chemical Corps. The Chemical Corps has served the nation proudly in war and peace. From the deadly trenches of Word War I to the hot sands of Arabia in 1991, the Corps has kept the Army ready to survive and fight in a nuclear, biological, and chemical environment.
During World War II the Germans, Italians, and Japanese were fully capable of using chemical agents effectively in war. The Germans had developed nerve agents exponentially more deadly than the agents released in WWI. The Italians used mustard gas to defeat the Ethiopian armies in Africa. The Japanese used the full scale capability against the Chinese. Also the new threat of biological warfare had emerged. The efforts of the Chemical Warfare Service deployed chemical munition stocks and the means to disseminate these stocks throughout the world as US forces moved against the enemy. The Service prepared the force during mobilization in the protection techniques which helped prevent any enemies from using chemical agents.
The chemical Warfare Service also developed flame weapons which included flame tanks as well as the more recognized portable flame throwers. The weapons were often decisive in overcoming enemy strongholds in the Pacific. The Army Air Force delivered Chemical Warfare Service incendiaries over targets in Japan with some raids having destructive effects comparable to that of the atomic bomb used of Hiroshima...
The Chemical Corps faced the new challenges brought with the American involvement in Vietnam gallantly. The Corps developed and used "people sniffers" to find the enemy in their jungle hideouts. "Tunnel rats" used tear gas and sheer bravery to clear the enemy from his caves. Chemical Corps personnel used thickened flame fuel devices to clear jungle areas of mines and booby traps and to prepare helicopter landing sites. Herbicides rendered vast areas of jungle useless as cover for the enemy... "

Does U.S. Intervention Overseas Breed Terrorism? The Historical Record by Ivan Eland, Ivan Eland est directeur de la receherche sur la politique de défense américaine de Cato Institute.
Cato Institute est un site capitaliste libertarien qui se réclame de l'idéologie politique de John Trenchard et Thomas Gordon; Cato est présent à Londres, Moscou, Shanghaï, Mexico et dispense des enseignements prônant la diminution du rôle du gouvernement, moins d'Etat donc dans la vie de la férération, la privatisation des services publics, un rôle majeur accordé aux juridictions fédérales les plus conservatrices et bien entendu aux défenseurs acharnés du libéralisme et de la liberté du marché. Ce document très intéressant qui tente de discréditer l'influence de la politique étrangère et militaire de la Maison Blanche à l'étranger ne nous dit pas par contre que Cato est co-financé par les fondations ultraconservatrices et ultradroite Sarah Scaife, Lambe, Koch... Cato est une source d'informations du Terrorism Research Center mais également du Wall Street Journal, du Washington Post, du New York Times dont Edward E. Crane vice-président d'Alliance Management et co-fondateur en 1997 de Cato, sera l'un des rédacteurs. Cato dispose d'un budget annuel de 22 millions de dollars environ et d'une centaine de chercheurs maisons...
"According to the Pentagon's Defense Science Board, a strong correlation exists between U.S. involvement in international situations and an increase in terrorist attacks against the United States. President Clinton has also acknowledged that link. The board, however, has provided no empirical data to support its conclusion. This paper fills that gap by citing many examples of terrorist attacks on the United States in retaliation for U.S. intervention overseas. The numerous incidents cataloged suggest that the United States could reduce the chances of such devastating--and potentially catastrophic--terrorist attacks by adopting a policy of military restraint overseas..."

Lire également les options ultrasécuritaires de Cato Institute pour l'encadrement de la politique de sécurité nationale de la Maison Blanche
et les très bons dossiers d'analyse sur les activités de financement de Koch Family Foundations,

Cato Institute Washington, DC
[From The Strategic Philanthropy of Conservative Foundations, NCRP]
"Founded in 1977 by libertarian activists Charles Koch and Edward H. Crane, the Cato Institute moved to Washington, D.C. in 1981 in a bid to become an influential player in Washington policy circles. Today (1997), Cato is a multi-million dollar, multi-issue research and advocacy organization with a staff of 40-plus senior managers, policy analysts, and communications specialists. It is also assisted by the work of over 75 adjunct Cato scholars, including ultra-conservative law professors Richard Epstein (University of Chicago) and Henry G. Manne.
Cato's mission is to "increase the understanding of public policies based on the principles of limited government, free markets, individual liberty, and peace. The Institute will use the most effective means to originate, advocate, promote, and disseminate applicable policy proposals that create free, open, and civil societies in the United States and throughout the world."
Toward that end, the Institute publishes books and policy analyses, works extensively through the media, organizes conferences and policy briefings, and testifies regularly before Congress and other policymaking bodies on a wide range issues. Following the November 1994 elections, the Institute published and delivered to every member of Congress The Cato Handbook, a 358-page, 39 chapter volume containing policy reforms and proposals in every vital public policy area, including budget and tax reduction, social security, Medicare, education, environmental reform, and foreign and defense policy.
One year later, the Institute launched its Project on Social Security Privatization, co-chaired by Jose Pinera, Chile's former minister of labor and welfare, and William Shipman, of State Street Global Advisors, which has been actively promoting private alternatives to social security, both financially and via an extensive public relations campaign..."

The Strategic Philanthropy of Conservative Foundations (dossier de Mediatransparency)
Moving a Public Policy Agenda, From a report by the National Committee on Responsive Philanthropy
"For more than three decades, conservative strategists have mounted an extraordinary effort to reshape politics and public policy priorities at the national, state and local level. Although this effort has often been described as a "war of ideas," it has involved far more than scholarly debate within the halls of academe...."

CHINE
China's Nuclear Missile Submarine Base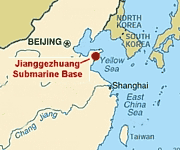 The base for China's single Xia-class ballistic missile submarine is located at Jianggezhuang approximately 15 miles (24 km) east of Qingdao on the Yellow Sea (see map). The base spans an entire bay 1.2 miles (1.9 km) across, and includes six piers, a dry dock, numerous service facilities, and an underground submarine tunnel. The main facilities appear to be located in the eastern part of the bay. Apart from the Xia, the base is also used by Han-Class nuclear attack submarines.

China's Military and the New World Order A Review of The People's Liberation Army's White Paper by Samuel J. Noumoff
"In December of 2004 the Chinese People's Liberation Army issued its White Paper on China's National Defense in 2004 [White Paper Defense 2004]. The Paper situates the defense posture in the context of China's drive for modernization, emphasizing that as the country is relying mainly on its own efforts, it therefore [emphasis added] poses no threat to anyone. The two pillars are an independent foreign policy and a defensive military one, which will neither be expansionist nor hegemonic.
The strategic assumption is that while the general international environment is stable, there is an increase of uncertainty, and instability.
Two tendencies are occurring simultaneously economic globalization and multipolarization, with a changing balance of power, displaying collaboration and competition.
While the voice of the developing world is having a greater impact on international relations thereby contributing to a greater democratization, the gap between the North and the South is ever widening. [ibid] The Iraq war has had far reaching influence on international and regional security, reflecting a hegemonic and unilateralist tendency, seeking strategic territory, resources and dominance.
The role of the military is also playing a greater role in the configuration of national security via the Worldwide Revolution in Military Affairs [RMA] as military establishments strive to shift from mechanization to informalization, which entails new military doctrines in conformity with high-tech weaponry and equipment. Here to the gap between militaries is growing.
Local wars have emerged as a consequence of the interaction of geopolitical, and ethnic conflicts intermingling with political and economic contradictions. This has made the fight against the root causes of terrorism ever more difficult.
While the dominant trend among Asian nations is consultation through the mechanisms of ASEAN, the Asian Regional Forum and the Shanghai Cooperation Organization, the security situation is being complicated by the U.S. reinforcing its regional military alliances and accelerating deployment of its missile defense system, while Japan is preparing to overhaul its Constitution and has significantly increased its foreign military activity. There remain uncertain factors in the resolution of the nuclear issue on the Korean Peninsula, while threats from terrorism, separatism and extremism remain grave, as do smuggling, piracy, drug trafficking and money laundering....
The biggest immediate threat to Chinese sovereignty, peace and stability remains the Taiwan administration's desire to employ Constitutional reform as a threat to the status quo.
The US is contributing to the destabilization of the region by increasing its qualitative and quantitative arms sales to Taiwan... "

Pentagon 'Hedge' Strategy Targets China
by Bill Gertz March 19, 2006
"The Pentagon is moving strategic bombers to Guam and aircraft carriers and submarines to the Pacific as part of a new "hedge" strategy aimed at preparing for conflict with China, Pentagon officials said..
Peter Rodman, assistant defense secretary for international security affairs, told a congressional commission that the response to the emerging military threat from China is part of the White House national security strategy made public yesterday.
Although U.S. relations with China are good, "both sides understand very well that there is a potential for a conflict, particularly in the Taiwan Strait," Mr. Rodman said during a hearing of the U.S.-China Economic and Security Review Commission.
China's arms buildup in recent years altered the U.S. "strategic calculus" for defending Taiwan from a mainland attack and shows that "a prudent hedging policy is essential," Mr. Rodman said.
The placement of about 700 Chinese missiles opposite Taiwan has changed the status quo between the non-communist island and the communist mainland, he said..."

DIA Assessment of Chinese Nuclear Forces
In April 1984, the U.S. Defense Intelligence Agency (DIA) published a secret Defense Estimative Brief on nuclear weapons systems in China. The brief was produced by DIA's China/Far East Division and provided a general overview of the number of Chinese nuclear weapons and gave detailed estimates for the number of Chinese nuclear warheads at the time as well a projections for 1989 and 1994.
Declassification of the document was done by DIA in two phases: the first in a response to a request from the National Security Archive; the second in response to a request from Kristensen. In the first release (see right-hand bar), most of the document was released except DIA's estimate of China's 1984 nuclear warhead inventory and two sentences relating to the nuclear capability of Chinese nuclear bombers. In the second release (see right-hand bar), however, most of the paragraphs released earlier were reclassified, while the previously withheld 1984 estimate and bomber information was declassified. By combining the two releases the original document could be reconstructed in its entirety (see right-hand bar).
The reconstructed document sheds important new light on the U.S. intelligence community's estimate of China's nuclear capability in 1984, at a time when U.S. and Chinese government officials were attempting to develop a joint stand against the Soviet Union. China's status was so appreciated that the U.S. removed China from the SIOP in 1981...

Les trois documents ci-dessous sont des exemples de la sociopolitique et de la stratégie militaire anti-Jintao/anti-Chine dispensée par de nombreuses agences de sécurité américaine, quelques labos universitaires néocons et quelques think tanks américains spécialistes de la lutte anti-communiste comme Hoover Institution, American Enterprise Institute, Brookings Institution ou encore comme Jamestown Foundation spécialiste des "sociétés totalitaires fermées" qui contribuera à l'effondrement de nombreux pays du "bloc communiste" et dont La Nueva Cuba est l'un des nombreux supports. La Nueva Cuba comme son nom l'indique prépare le post-castrisme, résolument anti-Castro, anti-Chavez, anti-socialiste...

1) CHINA'S MATURING NAVY by Rear Admiral Eric A. McVadon
U.S. Navy (Retired) La nueva Cuba spring 2006
"The East Asia security environment in which China is emerging demands that the matter of a maturing Chinese navy be put in a political context. Tension across the Taiwan Strait has recently relaxed. In Beijing, the leaders of economically successful and internationally active China do not want to jeopardize the nation's prospects for a bright future by initiating military conflict with Taiwan and the United States—quite the contrary. In Taipei, despite profound disagreement with Beijing and a major stir in domestic politics, a cautious posture in relations with Beijing now prevails. So, remarkably, amid deep, persistent, and mutual distrust, the current prospects for avoiding conflict across the Taiwan Strait are good. Well-informed Chinese officials and prestigious Americans who have had exchanges with senior Chinese leaders confirm the relaxed circumstances and express the conviction that Beijing is confident about the situation as Chinese leaders see it developing and that Taiwan, again content with the status quo, will remain measured in its actions. War across the Taiwan Strait is not looming.
Nevertheless, Beijing is, by modernizing its military, ensuring that things will not go awry in Taiwan, that its policy of intimidation continues to work. The indisputable reality is that this military—the People's Liberation Army (or PLA), and particularly its naval component, the PLA Navy (or PLAN)—is growing greatly in capability; further, it is a growing concern to defense and naval leaders in Washington, D.C., and other capitals, including Tokyo and Taipei. In a time of American preoccupation with the global war on terrorism, it is appropriate to draw attention to the crucial features of this modernization of components of the PLA. Beijing, if the "Taiwan problem" were to suffer a dramatic reversal, would have available an impressive force acquired for this purpose. If that force were effectively deployed, it would be sufficient in terms of hardware to undertake a two-pronged, PLA Navy–led campaign, with a big maritime component, against Taiwan and U.S. forces in a fashion that could be termed "jointness with Chinese characteristics..."

2) Military Power of the People's Republic of China La Nueva Cuba June 4, 2006
DEPARTMENT OF DEFENSE UNITED STATES OF AMERICA
ANNUAL REPORT TO CONGRESS
"A Report to Congress Pursuant to the National Defense Authorization Act Fiscal Year 2000 Section 1202, "Annual Report on Military Power of the People's Republic of China," of the National Defense Authorization Act for Fiscal Year 2000, Public Law 106-65, provides that the Secretary of Defense shall submit a report "on the current and future military strategy of the People's Republic of China. The report shall address the current and probable future course of military-technological development on the People's Liberation Army and the tenets and probable development of Chinese grand strategy, security strategy, and military strategy, and of the military organizations and operational concepts, through the next 20 years."

Executive Summary
"China's rapid rise as a regional political and economic power with global aspirations is an important element of today's strategic environment – one that has significant implications for the region and the world. The United States welcomes the rise of a peaceful and prosperous China. U.S. policy encourages China to participate as a responsible international stakeholder by taking on a greater share of responsibility for the health and success of the global system from which China has derived great benefit.
China's leaders face some important choices as its power and influence grow. These choices span a range of issues: challenges of China's economic transition and political reform, rising nationalism, internal unrest, proliferation of dangerous technologies, adoption of international norms, and China's expanding military power.
The People's Liberation Army (PLA) is in the process of long-term transformation from a mass army designed for protracted wars of attrition on its territory to a more modern force capable of fighting short duration, high intensity conflicts against high-tech adversaries. Today, China's ability to sustain military power at a distance is limited. However, as the 2006 Quadrennial Defense Review Report notes, "China has the greatest potential to compete militarily with the United States and field disruptive military technologies that could over time offset traditional U.S. military advantages."
In the near term, China's military build-up appears focused on preparing for Taiwan Strait contingencies, including the possibility of U.S. intervention. However, analysis of China's military acquisitions suggest it is also generating capabilities that could apply to other regional contingencies, such as conflicts over resources or territory.
The PLA's transformation features new doctrine for modern warfare, reform of military institutions and personnel systems, improved exercise and training standards, and the acquisition of advanced foreign (especially Russian) and domestic weapon systems. Several aspects of China's military development have surprised U.S. analysts, including the pace and scope of its strategic forces modernization. China's military expansion is already such as to alter regional military balances. Long-term trends in China's strategic nuclear forces modernization, land- and sea-based access denial capabilities, and emerging precision-strike weapons have the potential to pose credible threats to modern militaries operating in the region.
China's leaders have yet to adequately explain the purposes or desired end-states of their military expansion. Estimates place Chinese defense expenditure at two to three times officially disclosed figures. The outside world has little knowledge of Chinese motivations and decision-making or of key capabilities supporting PLA modernization.
This lack of transparency prompts others to ask, as Secretary of Defense Rumsfeld did in June 2005: Why this growing investment? Why these continuing large and expanding arms purchases? Why these continuing robust deployments? Absent greater transparency, international reactions to China's military growth will understandably hedge against these unknowns..."

3) Fidel Castro and his Chinese Friends by William Ratliff La nueva Cuba
"Cuba survived a decade of economic crisis in the 1990s after the collapse of its Cold War support network, the Soviet bloc. Now the Maximum Leader is building a new network, stretching from Caracas to the People's Republic of China (PRC), that he thinks will get him through his economic foolishness in the years ahead.
Fidel's affair with Venezuela's volatile President Hugo Chavez is a match made in Castroite heaven, but the relationship with China is more complicated. Why is the enormous Middle Kingdom, with its explosively growing economy, interested in an ancient dictator on a tiny Caribbean island who is mindlessly bound to failed statist economic policies? And vice versa?
In 1960, Cuba was the first Latin American country to recognize the PRC. Still, relations were often hostile for several decades because only the Soviet bloc could provide both sufficient economic aid to sustain Castro's always-failing economy and a military shield against his chosen enemy, the United States.
With the lapse in the Sino-Soviet dispute in the 1980s, Sino-Cuba relations began to improve. In June 1989, the rapprochement fast-tracked when Cuba strongly endorsed Chinese repression at Tiananmen.
Today Sino-Cuba links fall into three broad categories: political, economic and strategic. Cuba benefits most from China's often overlapping political and economic support, while China wins most from obtaining intelligence on the U.S. through the Cuban government..."

Terrorism Research Center
Nous rappelons ici que la diffusion des documents de ce centre stratégique fondé en 1996 est faite dans l'optique d'une approche historique critique de la propagande de G.W. Bush, de ses prédécesseurs et de ses successeurs. La plupart des chercheurs de ce centre de recherche ne sont pas des chercheurs alternatifs mais bien des professionnels du contre-espionnage, du cyber contre-terrorisme au service du pouvoir d'Etat, des armées, du renseignement, du business militaire, de l'enseignement universitaire. L'on y retrouve donc clairement définies les motivations de tous les camps, la politique selon de nouveaux moyens...

China and proliferation of weapons of mass destruction and missiles : policy issues, un rapport du Congrès rédigé par Shirley A. Kan du 6 avril 2006
"Congress has long been concerned about whether U.S. policy advances thenational interest in reducing the role of the People's Republic of China (PRC) in theproliferation of weapons of mass destruction (WMD) and missiles that could deliverthem. Recipients of China's technology reportedly include Pakistan and countries that the State Department says support terrorism, such as Iran and North Korea.
This CRS Report, updated as warranted, discusses the national security problem of China's role in weapons proliferation and issues related to the U.S. policy response, including legislation, since the mid-1990s. China has taken some steps to mollify U.S. concerns about its role in weapons proliferation. Nonetheless, supplies from China have aggravated trends that result in ambiguous technical aid, more indigenous capabilities, longer-range missiles, and secondary (retransferred) proliferation.
As the Director of Central Intelligence (DCI) has reported to Congress, China remains a "key supplier" of weapons technology, particularly missile or chemical technology..."

White Papers of Government by he Information Office of the State Council (People's Republic of China) : published a white paper entitled "China's National Defense in 2002" on December 9, 2002, which gives an account of the country's defense policy and progress in national defense over the past two years. Following is the full text of the white paper :
The Information Office of the State Council is an administrative office under the State Council, the chief administrative body of the People's Republic of China. It appears to be the chief information office of the Chinese government.

WHITE PAPER
• White Paper on China's National Defense in 2002
• White Paper on Labor and Social Security in China
• White Paper on Rural China's Poverty Reduction
• White Paper on China's Space Activities
• White Paper on Tibetan Culture
• White Paper on Narcotics Control

China in Brief
POLITICAL SYSTEM & STATE STRUCTURE
Docs et matériaux d'histoire immédiate


U.S. senators more optimistic about China's currency reform
China's Military and the New World Order A Review of The People's Liberation Army's White Paper by Samuel J. Noumoff

Rappel historique
Essai nucléaire chinois et moratoire, 30 juillet 1996
"La Chine a effectué son quarantième test atomique, lundi, le jour où reprennent à Genève les négociations sur l'interdiction définitive des essais. Les autorités chinoises ont, dans le même temps, annoncé la suspension des essais.
LA Chine a procédé, lundi, à un essai nucléaire et a annoncé qu'elle se plierait à un moratoire à partir du 30 juillet, soit un mois avant la date butoir qu'elle s'était initialement fixée.
Ce tir, d'une puissance de 1 à 5 kilotonnes est le 45e essai nucléaire chinois depuis la première explosion d'une bombe atomique chinoise en 1964. Au total, environ 2.000 engins nucléaires ont explosé dans ou sur notre planète depuis les deux bombes larguées sur Hiroshima en août 1945.
Ce dernier essai intervient le jour même de la reprise, à Genève, des négociations pour l'interdiction définitive des tests nucléaires en dimension réelle. Les Etats-Unis, la France, et sans doute l'URSS et la Grande-Bretagne ont les moyens de poursuivre le développement de l'arme de destruction intégrale par des simulations en laboratoire.
Dans le communiqué annonçant le test chinois, Pékin préconise la fin de la « terreur nucléaire ». « Cette importante décision (le moratoire - NDLR) a été adoptée non seulement en réponse aux appels d'un grand nombre de pays non dotés de l'arme nucléaire, mais aussi comme une action concrète pour promouvoir le désarmement », indique le communiqué gouvernemental. Dans l'immédiat, les pays possédant des armes nucléaires déployées en dehors de leurs frontières doivent « les redéployer » chez eux. Il s'agit essentiellement de charges embarquées à bord des sous-marins et autres bâtiments de guerre. Pékin a une fois de plus demandé que des négociations impliquant « tous les pays » aboutissent à une convention sur l'interdiction totale et la « destruction des armes nucléaires »...

Diapositive 1 : Nucléaire civil Chinois, Areva, Framatome... by Paul Felten (pdf)
1955 : Accord coopération nucléaire Chine-URSS. 1956 : 1er réacteur expérimental à eau lourde

"Ex-Im Bank, Corporate Fascism...", cet extrait nous montre l'envers du décors du business américain en Chine, à la fois du point de vue de l'un des think tanks les plus anti-communistes, nationalistes et conservateurs des Etats-Unis : The John Birch Society, et du point de vue des intérêts capitalistes d'Ex-Im Bank, dévoreur des marchés communistes et avant-poste de la politique anti-communiste de Roosevelt en 1933/1934 en Union Soviétique et à Cuba... Le projet Ex-Im Bank apparaît autant comme une conséquence de la révolution d'octobre que de l'exploitation rationnelle du Traité de Versailles (1918/1919) par une poignée d'affairistes américains. Une exploitation qu'encouragera, par exemple, le Council on Foreign Relations dès mars 1923 en intégrant dans sa structure un pool de multimiliardaires de Wall Street spécialistes du business avec la Russie impériale pré-1917 et les Soviets de Lénine, une activité que supervisera probablement John Foster Dulles au sein même du CFR. Nous retrouverons parmi les piliers de ce think tank bipartisan qui conduira Roosevelt au pouvoir en novembre 1932: Russell C. Leffingwell partenaire de JP Morgan's Bank, Paul Warburg de Kuhn Loeb's Bank, soubassements des plans Dawes (1924) et Young (1928) pour la reconstruction allemande. O.D. Young tout comme C.G. Dawes seront partenaires de J.P. Morgan & Co... En 1929, 26 compagnies investiront dans les programmes de recherche et de lobbying transnational du CFR qui connaîtra un certain essor malgré la crise financière nationale. Ex-Im Bank favorisant aujourd'hui les multinationales US néocons sur le continent Chinois dispose en fait d'un support historique économique et politique privilégié autant que d'un lourd passif d'actviste non gouvernemental, souvent hors-les-lois, pour le compte de la Maison Blanche, d'intérêts privés stratégiques ou du renseignement militaire.

1-"William Norman Grigg, porte-parole de la John Birch Society et éditorialiste de The New American, attaquera Ex-Im Bank en 1998. Dans "Beijing's Corporate Fascism" il démontrera au chapitre des "subventions douteuses" (corporate subsidies) comment Ex-Im Bank et le Big Business américain réussiront, en finalement peu d'années, à contsruire un mode de financement des activités à l'exportation parfaitement corrompu et parfaitement légalisé par l'usage des couvertures publiques : "corruption totalitaire légalisée" ou "business mussolinien". Une entreprise globale effaçant les limites entre intérêt public et intérêt privé, au détriment des textes de lois, de la constitution et des contribuables.
"Ex-Im Bank conçue initialement comme un couloir de circulation des "investissements privés" US en Union Soviétique par le biais de prêts garantis alloués à de "petites et moyennes entreprises" verra son champ d'action limité par le "Trade Act" en 1974. Une telle loi frappera "d'embargo" les pays non dotés d'économie de marché, essentiellement les pays du bloc de l'est et la Chine communiste. Une loi qui "boostera", en fait, le groupe des 500 multinationales américaines les plus riches et qui les conduira, en appui sur la Chambre de Commerce américaine, à déterminer une "nouvelle politique stratégique d'aide aux exportations dans le dos du Congrès".
Le concept de "nation la plus favorisée" verra le jour dans ce contexte "d'illégalité généralisée" permettant de détourner la loi de 74 et de "distribuer", de nouveau "librement", les prêts directs, les prêts garantis et les investissements garantis d'Ex-Im Bank aux exportateurs américains sur le marché communiste (la cible du commerce politique américain en fait depuis 1933). Une politique d'"ouverture" qui propulsera la Chine (poussée par le groupe des 500 et la Chambre de Commerce US) au sein de l'OMC et qui garantira à cette dernière (la Chine) son passage au sein du "bloc capitaliste" ainsi que la pérénité de son "statut" de "nation la plus favorisée"...

2-"Dick Cheney, le type même des bénéficiaires des largesses publiques partisannes d'Ex-Im Bank".
" La stratégie d'Ex-Im Bank consistera donc à intervenir partout où le financement privé des exportations fera difficulté ou rencontrera des obstacles particuliers. Très tôt, Ex-Im Bank considèrera la Chine comme son plus "gros marché" en Asie (le communisme étant le plus gros problème-sinon la menace universelle après le nazisme (?) et avant l'islam- des exportateurs et idéologues politiques conservateurs américains) "pour la plus grande joie des commissaires politiques de Beijing et des capitalistes industriels chinois".
"L'ex-congressman et ministre de la Défense Dick Cheney, qui est aujourd'hui CEO (Chief Executive Officer) de la multinationale texane de l'énergie Halliburton (qui nourrit depuis longtemps une politique spécifiquement chinoise)... sera, dira William Norman Grigg, le prototype de la culture Ex-Im Bank - en fait le type même des bénéficiaires industriels des largesses publiques partisannes d'Ex-Im bank.
"Le 8 Mai 1997, lors d'une conférence Ex-Im Bank à Washington, D.C., Cheney déclarera : "Ex-Im bank, plus qu'aucune autre structure intermédiaire, permet d'unir efficacement les ressources du secteur privé et celles du gouvernement américain (ici Ex-Im Bank)".
"Mussolini, en son temps, ne dira pas moins, écrira William Norman Grigg. En effet, Ex-Im bank n'a pas le droit légal de s'approprier - au regard de la Constitution américaine-ne serait-ce qu'un seul penny. Dick Cheney, qui connait parfaitement les textes de lois en tant que fiscaliste conservateur, se gardera d'en faire la publicité. Dédaigneux envers ceux qui critiquent Ex-Im Bank et plus encore avec ceux qui s'opposent à la pratique commune de la "manne" ou de la "ressource providentielle", Cheney dira : "les persifleurs ignorent que pour 1 $ US que gagne Ex-Im Bank, le corps des exportations américaines en gagne 20"...
"Un tel calcul (une telle combinaison des ressources privées, des ressources publiques et de l'impôt) est bien évidemment à l'avantage des seuls industriels. Cela ressemble fort, dira William Norman Grigg (pour nous autres contribuables) à une extorsion ou, à tout le moins, à un détournement des fonds publics... Cheney refusera de s'expliquer sur ce point..."

3-"Ex-Im Bank is a wholly-owned subsidiary of Big Business"
"En 1996, Ex-Im Bank à consenti pas moins de 900 millions $ US de prêts directs et 1,2 milliards $ US de prêts garantis au soutien des exportations et des entreprises américaines en Chine. S'adressant à ceux qui se "réjouissent qu'Ex-Im Bank soit une parfaite filiale du Big Business américain", Dick Cheney justifiera le processus à l'oeuvre (en se faisant le défenseur des orphelins) : "plus de 80% des transactions financières d'Ex-Im Bank en 1996 concernent la vie des petites entreprises de l'exportation"...
"Ceci a l'apparence d'un constat réaliste (seulement l'apparence) mais cela ne change pas le fait que la Constitution américaine n'autorise pas les subventions publiques à l'export privé et ce, quelle que soit la taille de l'entreprise. Présenter, par ailleurs, Ex-Im Bank comme l'investisseur "ami" du petit business sera difficile à soutenir à la lumière des faits (l'USTAD tiendra le même discours et utilisera les mêmes couvertures idéologiques politiques et économiques face aux résurrections potentielles du socialisme et de la lutte ouvrière dans les pays pauvres, on le verra très clairement en Irak, en Asie centrale, en Inde, en Afrique, en Europe centrale et dans les Balkans, en Amérique Latine). En 1996 , Ex-Im Bank comptera au nombre de ses "petits clients" : General Electric, Boeing, McDonnell Douglas, Westinghouse, Bechtel, Texaco..."
"Dernièrement, Ex-Im Bank accordera de généreuses subventions publiques (les impôts des contribuable) aux principaux projets de construction de l'infrastructure énergétique chinoise.
"Westinghouse recevra un prêt direct de $ 36,347,390 pour la production des turbines du Qinshan II Nuclear Power Plant, General Electric $ 260,116,302 pour la construction des générateurs du Nantong II Power Plant, Siemens $ 47,456,071 pour l'aide technique accordée au Fuzhou 2X35 OMU Power Plant. Le Qinshan III Nuclear Power Plant sera réalisé grâce à une aide "providentielle" de 20 millions de dollars accordée à Houston's Stone & Webster International Projects Corporation, un prêt direct de $ 383,133,959 sera également accordé à Overseas Bechtel. Foster Wheeler Energy Corporation recevra également sa part du gateau, soit un prêt direct de $ 408,822,539 pour la production des cheminées de refroidissement de la cenrale du Yangcheng Power Plant.""

4- "Presidential National Interest Determination."
"Il est très significatif, écrira encore William Norman Grigg, que les trois plus importants prêts directs accordés par Ex-Im Bank à Foster Wheeler, Overseas Bechtel, General Eectric pour la pénétration du marché chinois aient été approuvés par une " Presidential National Interest Determination". Bill Clinton garantira cette "résolution publique" à un moment où ses efforts politiques pour sa ré-élection seront "noyés" par une affaire de "contribution électorale chinoise illégale".
"Il n'est pas, non plus, surprenant d'apprendre que les principaux "gros-petits" clients d'Ex-Im Bank (couverture des projets chinois) soient liés aux plus "offensifs" des groupes lobbyistes de Beijing. Boeing, par exemple, qui recevra pas moins de 332,7 millions de dollars de subventions publiques à l'exportation en 1996, est membre de l'US-China Business Council (USCBC) et du Business Coalition for US-China Trade tout en étant membre co-fondateur de l'US-China Educational Foundation (USCEF). General Electric (260,1 millions de dollars de subventions Ex-Im) est également co-fondateur de l'USCEF et membre de l'USCBC; Foster Wheely Energy Corporation (408,8 millions de dollars de subventions Ex-Im) est également membre de l'USCBC, tout comme Texaco et Westinghouse. Bechtel est membre de USA-ENGAGE qui décrira le concept de "nation la plus favorisée" comme le plus adapté pour le commerce à l'exportation US en Chine : " un moyen d'encourager un changement positif en Chine et d'assurer (à terme) la liberté à Hong Kong"... Extrait d'IRAK, 17 JUIN 2004 : USTDA, Ex-Im Bank, Private Military Companies... ou la liberté de commercer avec la guerre [2] by Christian Pose
IRAK-Salvador-Option
"La "Salvador Option", une stratégie anti-marxiste au service des intérêts commerciaux américains...
·
"Les géants du tabac, de l'agro-alimentaire, de l'énergie, de la construction, du transport et de l'armement hors-les-lois, n'hésiteront pas, au regard de nombreuses enquêtes et rapports, à utiliser, nous l'avons vu plus haut, les moyens extrêmes de la violence. Des moyens tout à fait semblables à ceux utilisés par le Pentagone au Salvador ou au Honduras dans les années 1980.
TotalElfFina (I,2,3), ExxonMobil, Unocal, ChevronTexaco, Halliburton, Enron,British Petroleum, Amoco, Arco, Royal Dutch Shell, Power Corporation of Canada, Carlyle Group, etc... auront également dans leurs tiroirs une " Salvador Option", une stratégie optionnelle anti-guérilla et anti-marxiste mise en application par des opérateurs clandestins sur les marchés à risques (souvent "couverts" en Amérique Latine, en Asie ou en Afrique par l'église catholique et par les ong des fondations philanthropiques catholiques et chrétiennes). Ces opérateurs agiront dans un premier temps comme des agents d'infiltration des syndicats, des universités, des groupes de chômeurs, des groupes politiques, ethniques ou religieux marxistes, puis contribueront, à des fins de destabilisation, au développement de réseaux clandestins de vente d'armes, de réseaux de narco-traffiquants souvent supports ou partenaires de réseaux politiques "nationalistes" armés anti-insurrectionnels, de groupes terroristes ou de groupes miliciens.
Michael Hirsh et John Barry de Newsweek (9 janvier 2005), Christ Harvey, Judd Legum, Jonathan Baskin de l'American Progress Action Found branche du Center for American Progress (2, 3) dirigé par John Podesta (ex secrétaire-général de la Maison Blanche sous l'administration Clinton), Ghali Hassan, Max Fuller sur Globalresearch, dénonceront la réhabilitation de cette stratégie en Irak et sans doute en Syrie et en Iran.
Donald Rumsfeld, Dick Cheney, John Negroponte, Elliot Abrams... confirmeront cette orientation à plusieurs reprises entre 2003 et 2005.
"Les escadrons de la mort" en Irak seront composés, essentiellement, de kurdes peshmergas et de miliciens chiites auxquels s'aggrègeront, cependant, d'autres groupes armés formés par les forces spéciales américaines comme les milices du SCIRI d'Ibrahim al-Jaaferi, les milices d'Ahmed Chalabi, les milices d'Iyad Allaoui, les brigades iraniennes Badr.
Ces groupes, souvent habillés en civil, viseront très spécifiquement les groupes religieux sunnites armés, les groupes syndicalistes indépendants de tendance marxiste, le très puissant syndicat des chômeurs, les groupes communistes-ouvriers et leurs familles, acculés de toute évidence par les pouvoirs "légaux" et les forces d'occupation à une forme de résistance civile.
·
Une action indispensable
·
Il nous paraîtra indispensable de soutenir, ici, les actions civiles pour la défense du droit au travail, du droit à l'activité syndicale, pour le respect des droits de l'homme et la résolution non violente des conflits, engagées auprès des instances internationales pour la paix et la justice en Irak afin :
1- de produire une enquête officielle sur les opérateurs clandestins de cette option militaire et policière,
-lors d'une interview publiée sur le site web du Département d'Etat du 9 janvier 2005, l'ex-secrétaire d'Etat Colin L. Powell orientera très clairement les questions des journalistes George Stephanopoulos (ABC) et Wolf Blitzer (CNN) sur la réhabilitation de la "Salvador Option" en Irak sur l'Etat-Major du Pentagone,
2- de soutenir les tribunaux internationaux d'opinion : BrusselsTribunal, International Criminal Tribunal for Iraq, World Tribunal on Iraq, Tribunal Permanent des Peuples, engagés dans un processus historique de défense des populations civiles non-combattantes mises en danger de mort en Irak par G.W. Bush, Jun-ichiro Koizumi, Tony Blair mais également par les 40 autres chefs d'Etat impliqués dans la guerre irakienne,
3- de soutenir l'activité ininterrompue des Tribunaux d'opinion afin de dégager la part exacte de responsabilité de Donald Rumsfeld, Dick Cheney, Francis J. Harvey, Colin Powell, John Negroponte, Paul Wolfowitz, Elliot Abrams, Paul Bremer, Richard B. Myers, ex-commandant du Joint Chiefs of Staff, Peter Pace, nouveau commandant depuis le 22 avril 2005 du Joint Chiefs of Staff, John Abizaid, grl. commandant l'US CentralCommand (1, 2), George Casey, grl. cdt. les forces armées en Irak, Thomas Metz, grl. cdt. les forces terrestres en Irak, John Sattler, grl. cdt. les marines en Irak, dans le processus de terrorisation des populations civiles non-armées irakiennes et le processus clandestin d'assassinats politiques,
4- de dégager la part de responsabilité exacte des dirigeants irakiens, notamment du général Muhammed Abdallah al-Shahwani, directeur de l'Iraq's National Intelligence Service, de l'ex-premier ministre Ayad Allaoui, du président irakien Kurde Djalal Talabani et du premier ministre chiite irakien Ibrahim Djaafari, responsables politiques et administratifs des Forces Armées et des Forces Spéciales irakiennes entrainées par les Unités des Forces Spéciales américaines...
5- d'obtenir de la Cour Criminelle Internationale ou de la Cour Pénale Internationale les jugements des criminels de guerre et des criminels contre l'humanité irakiens et américains..." (Extrait de Citoyenneté globale: vers un nouvel ordre mondial... l'ultime fourberie du capitalisme, des Etats et de l'instabilité politique - (II) )

Réflexions sur le Tribunal Penal International
Quelques matériaux d'histoire (3)

Tribunal pénal international pour l'ancienne Yougoslavie (TPI-y)
I-Le Tribunal pénal international pour l'ancienne Yougoslavie (TPI-y) a été mis sur pied par le Conseil de sécurité des Nations Unies en 1993. Il a pour mandat de poursuivre les personnes présumées coupables d'avoir commis des atteintes graves au droit humanitaire international, dont des crimes de guerre, des crimes contre l'humanité et le génocide, dans l'ancienne Yougoslavie depuis 1991.
Depuis ses débuts, la charge de travail du Tribunal s'est considérablement alourdie. Son personnel est passé à 1 062 personnes provenant de 79 pays, tandis que son budget a grimpé de 276 000 $ US en 1993 à plus de 270 millions de dollars américains en 2004-2005. Le budget de 2004-2005 devrait représenter un sommet dans le financement requis pour le Tribunal, alors que les enquêtes diminuent.

II-Tribunal pénal international pour le Rwanda (TPIR)
Le Tribunal pénal international pour le Rwanda (TPIR) a été mis sur pied en 1994 par le Conseil de sécurité des Nations Unies afin de traduire en justice les dirigeants et planificateurs du génocide de 1994 au Rwanda, qui a fait 800 000 victimes chez les Tutsis et les Hutus modérés, selon les chiffres estimatifs. Le TPIR est basé à Arusha, en Tanzanie.
Le budget de 2005 du TPIR dépasse les 100 millions de dollars et son personnel provient de plus de 80 pays. Le TPIR suit un échéancier semblable à celui du TPI-y. Ainsi, toutes les enquêtes doivent être closes à la fin de 2004 (but atteint), tous les procès devront être terminés en 2008 et tous les appels à la fin de 2010.

III-Tribunal spécial de la Sierra Leone
Le 14 août 2000, le Conseil de sécurité adopte la résolution 1315 demandant au Secrétaire général de négocier avec le gouvernement de la Sierra Leone afin d'établir un tribunal spécial indépendant qui serait saisi des atteintes graves au droit humanitaire international et au droit de la Sierra Leone. En janvier 2002, le Secrétaire général et le gouvernement de la Sierra Leone ont officiellement signé l'entente créant le Tribunal spécial. Celui-ci a été constitué en 2002 et est situé à Freetown, en Sierra Leone.
Le Canada a joué, et continue de jouer, un important rôle de leader dans la création et la gestion du Tribunal spécial. En juin 2005, le Canada a repris la présidence du Comité de gestion du Tribunal spécial aux Nations Unies. Un nombre important d'employés du Tribunal spécial travaillant au sein de divers secteurs du tribunal sont Canadiens. Parmi ceux-ci se trouvent un juge de la Chambre d'appel, le procureur en chef, l'enquêteur en chef et de nombreux avocats et stagiaires.
Alors que les progrès du Tribunal ont été remarquables, son travail est menacé en raison d'un important manque de financement. Le tribunal est financé grâce à des contributions volontaires. Le Canada a versé un total 3,25 millions de dollars et a généreusement fourni des experts au Tribunal, dont des enquêteurs de la GRC et des stagiaires en droit. Lors d'une récente conférence pour les annonces de contributions aux Nations Unies, le Canada s'est engagé à fournir 1,7 million de dollars supplémentaires et à continuer à prêter du personnel afin d'aider le Tribunal à mener à terme son mandat de première importance. (source Le Canada dans le monde : Politique canadienne internationale)

"Quelles leçons tirer du TPI ?" de François-Xavier Nsanzuwera (fidh, 6/06/2001)
"Au printemps 1994, durant trois mois furent massacrées au Rwanda entre 500 000 et 1 million de personnes. Le monde assista sans réagir au génocide de la minorité Tutsi et aux massacres de Hutu qui refusaient de participer à ces exactions.Pourtant les images de cette barbarie appartenant à une époque qu'on croyait révolue étaient diffusées par les grandes chaînes de télévision du monde entier. Le 8 novembre 1994, la Communauté internationale encore sous le choc de sa culpabilité décida de réagir en créant un tribunal pénal international chargé de juger les auteurs de ce génocide. Le Conseil de sécurité avait-il eu le temps de penser sérieusement le rôle et l'impact de cette juridiction ?
Improvisation et précipitation. Le juriste français Paul Tavernier apporte une réponse négative à cette question : selon lui, la création des deux juridictions pénales internationales (La Haye pour l'ex- Yougoslavie, et Arusha pour le Rwanda) a été largement improvisée. « Il en est résulté beaucoup d'ambiguïtés qui ont marqué la procédure de mise en œuvre (...) et qui se traduisent dans le statut juridique qui leur a été attribué. » L'urgence et l'improvisation qui ont caractérisé la création de ces deux structures ont été à l'origine de deux destins identiques. Les remarques développées ici, afférentes au Tribunal pénal International pour le Rwanda sont donc très semblables à celles que l'on pourrait émettre pour le Tribunal de La Haye..."

«Le procès Milosevic est un rituel de diabolisation» interview de Me Jacques Verges par Stéphanie Maupas, site Paix dans les Balkans (2001)
"Qu'aviez-vous dit, précisément ?
Le TPI est un scandale juridique. Il est né par une décision du Conseil de sécurité, alors que le Conseil de sécurité n'a aucun pouvoir en ce sens. Certes, le Conseil de sécurité dans la défense de la paix, a des pouvoirs extrêmement larges. Mais il faut un pouvoir exprès pour créer une telle institution. Et le Conseil de sécurité n'a pas ce pouvoir exprès. D'ailleurs, monsieur Kofi Annan, dans sa déclaration de mai 1993, disait lui-même que « la procédure normale aurait été la tenue d'une conférence internationale ». Comme celle qui a eu lieu à Rome récemment, pour la création d'un tribunal pénal permanent. Mais on était pressé.
Qui est ce « on » ?
C'est l'Otan et les Etats-Unis d'Amérique.
La deuxième chose qui m'apparaît indécente relève du fonctionnement du tribunal. Il y a deux choses qui sont scandaleuses. D'abord les ressources, le financement. Ses ressources proviennent soit des états et des fondations, soit de particuliers comme monsieur Soros. Pour moi, c'est une justice entretenue. Comme on dit d'une femme qu'elle est entretenue quand elle ne vit pas de ressources légitimes, mais des cadeaux de ses amants. De ceux qui l'aiment. Or le TPI fonctionne avec les cadeaux de ceux qui l'aiment. Aujourd'hui, le TPI répond : « ce n'est pas vrai, 8,6% de notre budget provient de l'Onu. » Cette réponse me comble ! Car il reste 1,4% qui proviennent d'ailleurs... (chiffres, lire 86% et 14% et non 8,6% et 1,4%, correction C.P.)

Les incohérences du Tribunal Penal International par Catherine Samary (Monde Diplomatique, 20/7/2001)
"E transfèrement de M. Slobodan Milosevic au Tribunal pénal international pour l'ex-Yougoslavie (TPIY) le 28 juin 2001 passera-t-il dans l'histoire comme une avancée du droit international ou comme un acte de subordination politique et marchande du nouveau gouvernement de Serbie et de son premier ministre Zoran Djindjic à la politique des Etats-Unis ? Ce questionnement ne peut être ignoré alors que l'extradition s'est produite la veille d'une réunion de donateurs où les Etats-Unis conditionnaient l'aide accordée à la RFY à l'accomplissement de cette « obligation internationale », refusée pourtant par la Cour Constitutionnelle yougoslave.
...le moment où a été prononcée l'inculpation de Slobodan Milosevic - pendant la guerre de l'OTAN (mars-juin 1999) - justifie la critique contre le TPI qui devient ainsi instrument politique (visant à couvrir l'action de l'OTAN au Kosovo) et non judiciaire...
...Pour qui est sincèrement convaincu du rôle que pourrait jouer le TPIY dans le progrès difficile d'un droit international, il devrait être essentiel de réclamer l'indépendance financière et politique du TPIY à l'égard des grandes puissances..."

Du bon usage du TPI de Xavier Bougarel (Monde Diplomatique, avril 2002)
"Il ne s'agit donc en aucun cas de contester la nécessité de sanctionner les crimes qui ont accompagné les guerres yougoslaves, ou la légitimité du TPIY à le faire. Bien au contraire, la condamnation des principaux criminels de guerre est la moins problématique de toutes les fonctions que le TPIY se voit attribuées, ou s'attribue lui-même : non seulement les victimes ont un droit à la reconnaissance et à la réparation de leurs souffrances, mais le rétablissement d'un degré minimal de sécurité et de confiance dans l'espace yougoslave passe par la mise à l'écart des criminels de guerre, et la réaffirmation claire d'un certain nombre de principes. De ce point de vue, le TPIY a bien une fonction irremplaçable, et le fait que, ailleurs, d'autres criminels d'Etat continuent à couler des jours tranquilles n'y change rien.
Une analyse des pratiques judiciaires du TPIY incite cependant à rester prudent sur la portée réelle de son action. En effet, ces pratiques sont en partie influencées par des jeux et des calculs politiques complexes, et il n'est pas besoin de voir partout la main de la CIA pour subodorer l'influence décisive de certains Etats, à commencer bien sûr par les plus puissants. En 1995, la non-inculpation de M. Milosevic et de Franjo Tudjman pour les crimes commis au cours du conflit bosniaque (1992-1995) s'expliquait sans doute par leur rôle dans la gestion internationale de ce conflit..."

Fiasco à la Haye de Catherine Samary (Monde Diplomatique, avril 2002)
"...Accusera-t-on le TPIY de « révisionnisme » pour avoir retiré de l'acte d'accusation le fameux plan « fer à cheval », qui s'est révélé un faux ? La spirale des bombes et des mots a produit une auto-intoxication (« Auschwitz », « génocide », « déportation »...), que l'examen des faits et des preuves contraint à « dégonfler »... Malmenées, les thèses dominantes des médias de l'époque, qui visaient à légitimer la guerre de l'OTAN, empêchent encore de revenir effectivement sur l'interprétation d'un conflit opposant bel et bien deux légitimités, serbe et albanaise, sur un même territoire..."




CANADA/QUEBEC
"La connaissance est une richesse, il faut donc la partager, pour nous, le partage est un devoir citoyen!..." (BIC)
Les Brigades d'Information Citoyenne (BIC)
"Les BIC préconisent un partage du savoir qui repose sur la confiance dans le libre arbitre des êtres humains. Les BIC proposent une démarche collective de partage d'informations, une volonté d'autoformation, entre personnes égales. Nous partageons ce que nous savons, mais aussi nos doutes, nos questions, nos pratiques. Notre vision repose sur l'inclusion des personnes, dans toute leur richesse et leur diversité.
Pour nous, le savoir est le levier de la démocratie. La démocratie repose sur une citoyenneté consciente et libre, critique et active.
Nous avons la conviction qu'ensemble, nous pouvons changer le cours des choses. Un autre monde est possible, de fait, un monde de démocratie, de justice et de paix est en marche... "
Un projet d'éducation et de mobilisation

Union des forces progressistes (site officiel de l'UFP)
Le 4 février dernier naissait le parti Québec solidaire, issu de la fusion de l'Union des forces progressistes et d'Option citoyenne. Cet événement majeur sur la scène politique québécoise sera très bientôt suivi par une élection partielle dans la circonscription de Sainte-Marie-Saint-Jacques (Montréal), visant à combler le siège laissé vacant par la démission du député sortant l'automne dernier. L'élection aura lieu au plus tard le 18 avril 2006 (l'annonce officielle se fera sous peu) et Québec solidaire est déjà en mode électoral !

Histoire immédiate
Une assemblée constituante pour tracer ensemble les contours d'un Québec indépendant (document de réflexion, pdf)
3ème semaine internationale contre le Mur de l'Apartheid
(Coalition pour la Justice et la Paix en Palestine & ISM-Montréal,12/11/05)
L'Assemblée constituante, une approche démocratique et participative dans la lutte pour l'indépendance!
La perspective d'Assemblée constituante a ressurgi à plusieurs moments dans l'histoire du Québec : durant la lutte des Patriotes en 1837-1838, avec la montée du mouvement indépendantiste durant les années 1960 et maintenant, à l'heure de la crise de la stratégie référendaire du Parti québécois.
En effet, la stratégie démocratique et participative consistant à convoquer une Assemblée constituante pour construire un pays répond à la crise actuelle de la lutte pour l'indépendance. Le processus participatif de l'Assemblée constituante a une force de mobilisation qui permettra de rallier les forces vives du Québec. Il pourra aussi être le moteur de changements sociaux, comme on l'a vu récemment au Venezuela.

Rappel historique
Déclaration finale du IIIème Sommet des peuples de l'Amérique
"Nous, déléguées et délégués d'organisations sociales de toutes les régions du continent, du Canada à la Patagonie, travailleurs et travailleuses, paysans, autochtones, jeunes et vieux, de toutes les races, femmes et hommes de dignité, nous sommes donné rendez-vous ici, à Mar del Plata, Argentine, pour faire entendre la voix de tous les peuples de notre Amérique, exclue par les puissants. Comme ce fut le cas précédemment au Chili et au Québec, nous nous trouvons à nouveau face au Sommet des Amériques qui réunit les chefs d'État du continent, à l'exclusion de Cuba, parce que même si les discours officiels continuent de lancer de beaux mots sur la démocratie et la lutte contre la pauvreté, les peuples continuent d'être exclus de la prise de décisions sur nos destinées. De plus, nous nous rencontrons ici, au sein du IIIe Sommet des peuples, pour consolider notre résistance face aux calammités orquestrées par l'empire du Nord et poursuivre la construction d'alternatives. Jour après jour nous démontrons qu'il est possible de changer le cours de l'histoire et nous nous engageons à avancer plus loin dans cette direction..."

5 novembre 2005 vote unanime pour la fusion de l'UFP avec Option citoyenne...rendez-vous en janvier 2006 by Amir Khadir/ Denise Veilleux
"L'Union des forces progressistes, parti des urnes et de la rue, avance l'idée qu'un autre Québec est possible et nécessaire. Le travail de rassemblement et de construction de la gauche entrepris dans les dernières années par l'UFP porte aujourd'hui ses fruits. Les prochains mois seront décisifs pour l'émergence d'une alternative politique. Car, alors que le cynisme face aux partis traditionnels se fait de plus en plus sentir, la population attend avec impatience de nouvelles idées et de nouvelles propositions pour un Québec solidaire..."

Histoire immediate : Historique de l'UFP
"L'Union des forces progressistes est un nouveau parti politique fondé en juin 2002, à la suite du rassemblement de personnes progressistes issues de divers horizons et de la plupart des régions du Québec, et à la suite du rapprochement de mouvements sociaux et de partis politiques progressistes. L'unité s'est construite sur le terrain, et a été ponctuée d'événements qui ont canalisé les énergies militantes et ont mené à l'unité organisationnelle dans le cadre de l'UFP. Elle émerge par ailleurs dans une conjoncture bien précise.
En effet, la crise des modèles se réclamant du socialisme ou de la social-démocratie rend d'autant plus urgente la redéfinition de la gauche que la mondialisation néolibérale balaie tout sur son terrain. Les mouvements sociaux progressistes (féministes, altermondistes), malgré de puissantes mobilisations, enregistrent des gains relativement faibles, constatant ainsi l'importante problématique du relais de la société civile vers la société politique. La nécessité d'un front uni politique des forces progressistes en lutte contre le néolibéralisme et la guerre apparaît de plus en plus clairement... "

Histoire immediate: Les documents de l'UFP
Très important rapport politique du Comité exécutif national du Congrès de l'UFP (24/05/2004)
La solitude de SPQ Libre by Denise Veilleux (porte-parole nationale de l'UFP)
Le PCQ se sépare de son vis-à-vis canadien
by Parti Communiste du Québec (PCQ est membre de l'UFP)

Le Québec interpelé par l'ONU sur ses politiques sociales
by L'équipe de la Lettre
"Montréal, 9 juin 2005. Un Comité d'experts de l'ONU questionne le Québec sur l'impact de la privatisation du système de santé sur les groupes vulnérables et marginalisés, sur le sort des sans-abris et sur l'endettement croissant des étudiants.
Tels sont quelques-uns des éléments soulevés par le Comité d'experts des Nations Unies responsable de la supervision du Pacte international relatif aux droits économiques, sociaux et culturels (le Comité d'experts du Pacte) à la suite de son étude du rapport soumis récemment par les gouvernements canadiens et québécois concernant l'état des droits économiques, sociaux et culturels au pays. Sur la base de ce rapport, le Comité d'experts questionne les pratiques non seulement du Canada, mais aussi et en particulier du Québec sur ses politiques sociales. Pour sa part, le Gouvernement du Québec ne doit pas seulement répondre aux experts de l'ONU, mais il doit aussi s'expliquer devant les groupes qui ont constaté des manquements et des reculs importants au niveau de la pleine garantie de tous les droits de la personne. Il doit surtout rendre compte à tous les citoyens de ses hésitations à garantir et mettre en œuvre tous les droits qu'il s'est engagé internationalement à promouvoir et à respecter..."

Les 46 questions du Comité d'experts de l'ONU aux gouvernements canadien et québécois (05/2005, pdf)
«Tous les droits de l'homme sont universels, indissociables, interdépendants et intimement liés. La communauté internationale doit traiter des droits de l'homme globalement, de manière équitable et équilibrée, sur un pied d'égalité et en leur accordant une égale valeur. S'il convient de ne pas perdre de vue l'importance des particularismes nationaux et régionaux et la diversité historique, culturelle et religieuse, il est du devoir des Etats, quel qu'en soit le système politique, économique et culturel, de promouvoir et de protéger tous les droits de l'homme et toutes les libertés fondamentales.»
Déclaration et programme d'action de Vienne
Observations finales et inquiétudes (al.7 à 21) du Comité des droits de l'homme -Canada (1999)
Conclusions et inquiétudes (al.12 à 24) du Comité des droits économiques, sociaux et culturels (1993)
Activités du Comité sur les droits économiques, sociaux et culturels
by Ligue des Droits et Libertés (LDL)

Option citoyenne (site officiel)
La question nationale, document de réflexion d'Option Citoyenne
Vision fondatrice, pour un Québec du bien commun
La mondialisation néolibérale
Relations avec les peuples autochtones, vivre ensemble
Option citoyenne: enfin une volonté de gouverner autrement (Françoise David) by Jacques Létourneau (Alternatives)
Bien commun recherché, une option citoyenne
by Françoise David (éd.Ecosociété)
Marching on for Bread and Roses (site officiel)
Fédération des femmes du Québec (site officiel)
D'abord Solidaires (site officiel)
Réseau de vigilance (site officiel)

· Hier et aujourd'hui, quelques propos d'André Thibault (sociologue militant et écrivain), rappels (2005/2003/2002)
Devant la politique, engagement et distance
by André Thibault (Quel parti prendre ? Les perplexités d'une société politique en mutation, éditorial de la revue Possibles, Hiver 2005)
"Une spirale descendante est déclenchée, qui finit par créer sa propre logique. Le professeur français Jean Baudouin s'inquiète de la prolifération des « lectures pathologiques relatives
à notre société »? 6 Les partis eux-mêmes, engagés « dans une voie utilitariste en opposition à la voie doctrinale […] ne seraient plus des lieux de débat mais de véritables entreprises chargées de promouvoir des spécialistes de la conquête du pouvoir ». En face, les médias « succombent facilement au principe de spectacularisation», pendant que « de nombreux acteurs ont intérêt à présenter la situation sous l'angle de la crise » (l'ensemble des militants sociaux et intellectuels critiques sommes interpellés ici). Les conséquences dépassent-elles les intentions lorsque « la critique du monde politique conduit à un dégoût de l'activité politique » ? Baudouin conclut que « dénigrer systématiquement la représentation parlementaire est dangereux ». Et de fait, comment peut-on à la fois promouvoir la démocratie et invalider sans appel la crédibilité de toute personne mise en place par le processus électoral ?..."


L'épisode Charest et la reconstruction des liens entre l'Etat et la société au Québec (exposé présenté aux journées d'études d'Alternatives d'août 2003) by André Thibault (Union des Forces Progressistes/CMAQ)
Une nouvelle autonomisation réciproque du social et du national (pouvoir(s) et mouvements sociaux) by André Thibault (éditorial de la revue Possibles, été 2003)
"Il reste un problème lancinant et indéniable : la multiplication des luttes sectorielles et des projets alternatifs a beau occasionner de nombreuses coalitions sur des enjeux précis, elle n'engendre pas une convergence puissante capable d'actualiser cet « autre monde » que l'on proclame « possible ». Après les échecs lamentables du communisme réel, après l'arrêt puis le recul des formes de redistribution fordiste dans les régimes inspirés de la social-démocratie, après le reflux des moyens de régulation étatique de l'économie consécutivement à la transnationalisation du capital, rien ne semble en mesure de freiner l'empire vorace du modèle ultralibéral globalisant et de son principe directeur « tout est marchandise ». Il faut être courageux et virtuose en argumentation pour simplement se reconnaître, en présence d'amis sûrs, « socialiste mais… ». Et plusieurs même des critiques sévères du nouvel Empire sans État se défendent mal d'un type de frayeur religieuse attribuant à ce Moloch une toute-puissance capable d'écraser, de récupérer ou de marginaliser toute forme de résistance...

Culture qui "beugle" ne mord pas (les cultures face à la mondialisation)
by André Thibault (éditorial de la revue Possibles, automne 2002, voir rubrique Nord-Sud ci-dessus)
"La course au prestige culturel se nourrit de distance, alors que la soif de profit est avide de proximité, jusqu'à l'envahissement inclus. Les méga-industries sont lancées à la conquête illimitée du temps et du portefeuille de tout un chacun, monopolisent salles de cinéma et temps d'antenne — voire même les subventions publiques en promettant aux États d'alléchantes retombées fiscales. Aucun secteur n'est à l'abri, pas même les grands musées. Pourquoi alors cet assaut ne provoque-t-il pas plus de résistance ? C'est qu'il excelle à fasciner par ses effets spéciaux, sa maîtrise de la couleur, du rythme, du suspense, de la sentimentalité, ne semblant reculer devant rien pour nous rendre l'expérience agréable. « Il ne faut pas bien sûr que ce soit compliqué », commente Sylvie Groulx, « ils ne veulent pas de ceux qui essaient de proposer des réflexions ». Sombre complot pour anesthésier les consciences ? Cette hypothèse indémontrable n'est même pas nécessaire. La production industrielle de masse a simplement besoin d'une humanité hédoniste, toujours prête à consommer de plus en plus, et la diffusion culturelle du style de vie middle-class états-unien représente le meilleur message commercial permanent pour développer une clientèle friande des mille et une marchandises que ne cesse de générer cette économie compulsive. La culture de la facilité et de la déresponsabilisation qui en découle fait presque figure de « dommages collatéraux »...

Les Editions Ecosociété, à contre-courant (Montréal-Québec, à découvrir)
Créées en 1992, les Éditions Écosociété ont pour but de susciter des débats publics sur les grands problèmes de l'heure. La maison favorise la production et la diffusion d'ouvrages critiques dans le but de définir les fondements d'une société plus conviviale et plus respectueuse des ressources de la biosphère, d'une démocratie plus proche des citoyennes et des citoyens, et d'une économie durable et endurable. Dans cette perspective, la maison participe aussi à la collection internationale «Enjeux Planète»...
Le catalogue Ecosociété des auteurs et des oeuvres
(remarquable plongée dans la critique alternative de A à Z)

Institut pour une écosociété (IPE)
L'Institut pour une écosociété a été créé à l'été 1992 par un groupe de personnes préoccupées par les graves problèmes écologiques, économiques et politiques qui caractérisaient cette fin de siècle et qui menacent toujours la biosphère d'une destruction profonde et peut-être sans retour. Constatant la médiocrité du débat public, le groupe a décidé de mettre en place des instruments et des mécanismes qui favoriseront l'éveil, la réflexion, la discussion et l'action.
L'Institut veut susciter un vaste débat public sur les grands problèmes de l'heure et sur les conditions d'émergence d'un nouvel humanisme et d'une société plus conviviale, plus démocratique et plus respectueuse des ressources de la biosphère, le but étant de favoriser l'avènement d'un nouveau modèle économique, politique, social et culturel.
L'Institut se veut partie prenante des grands courants sociaux qui combattent le productivisme, la surconsommation, les pouvoirs hiérarchiques et de domination.
Balise 11 de la Charte de l'IPE
" Promotion de l'action non violente pour la transformation de la société et, dans l'hypothèse d'un Québec souverain, option pour un pays démilitarisé et sans armée qui assurera la sécurité par une défense civile non violente."...

Enjeux Planète, une collection mondiale pour une autre mondialisation
La collection «Enjeux planète» propose des essais dans lesquels des auteurs des cinq continents traitent des différents défis liés à la mondialisation: commerce international, ressources naturelles et défis climatiques, rapports Nord-Sud, identités culturelles, etc. Chaque ouvrage est porteur non seulement de diagnostics, mais aussi de propositions et de perspectives d'action.
Pour publier des livres qu'ils aiment et pour montrer que l'on peut «éditer autrement», pas moins de douze éditeurs francophones ont décidé de s'associer pour coéditer cette collection en Belgique (Luc Pire), au Bénin (Ruisseaux d'Afrique), au Cameroun (Presses universitaires d'Afrique), au Canada (Éditions Écosociété), en Côte d'Ivoire (Éditions Éburnie), en France (Éditions de l'Atelier et Éditions Charles Léopold Mayer), en Guinée (Ganndal), au Mali (Jamana), au Maroc (Tarik), en Suisse (Éditions d'en bas) et en Tunisie (Cérès)....

A Babord! "Débats politiques" (Moisan, Vaillancourt, Gélinas, Mouterde, Rioux, Bensaïd, Badenas, David, Fournier, Légault...)
Quelques textes de Pierre Mouterde
Quand l'utopie ne désarme pas (les pratiques alternatives de la gauche latino-américaine)
Les difficiles chemins de la gauche latino-américaine (A Bâbord)
Amérique latine-Le retour des logiques guerrières ? (Alternatives)
Mouvements sociaux au Chili (1973-1993)
by P. Mouterde et P.Guillaudat (L'Harmattan)
Cinq ans de duplicité américaine en Haïti (1991-1996)
by P.Mouterde et Christophe Wargny
Que faire ?...pour contrer la montée de la droite, une entrevue avec Françoise David (A Bâbord)
ADQ: voie sans issue by Pierre Mouterde et JC St-Onge

L'aut'JOURNAL (site officiel, débats)
Les altermondialistes et la question linguistique by Pierre Dubuc
Pour nous libérer des libéraux by Jacques Bouchard (journal Le Couac)
Hydro-Québec se livre pieds et poings liés by Gabriel Sainte-Marie
La Charte des droits de Power Corporation by Pierre Dubuc

Réseau du Forum Social de Québec
Très important calendrier des activités citoyennes engagées ou progressistes des régions Québec et Chaudière-Appalaches (nov.2005)
Collectif pour un Québec sans pauvreté
ATTAC-Québec (site officiel)
Mobilisation contre l'AGCS-syndicats
Mobilisation contre l'AGCS-municipalités
Labour News from Canada by LabourStart (site officiel)
Canadian labor today : partial successes, real challenges
by Barry Brennan (Monthly Review)
Is the annexation of Canada part of Bush's military agenda ?
by Michel Chossudovsky (GR-Canada)
Canada's CEOs sell out the nation by Murray Dobbin (GR-Canada)
US, Canada and Mexico roll out border plans
by Shaun Waterman (World Peace Herald)
Eléments de recherche et d'histoire

JAPON

Rappel, si nous soutenons d'un point de vue sociohistorique l'activité syndicale et politique antirévisionniste japonaise, nous nous opposons toutefois à toute dérive violente. Nous pensons que cette dernière ira toujours à l'opposé du principe même de la transformation de la société capitaliste, expression par excellence de la violence...

2005 Struggle will be historic watershed since 1945 (Doro-Chiba)
International Solidarity Report from Doro-Chiba
(National Railway Motive Power Union of Chiba, Japan)
Anti-War & Workers' Movement in Japan by Hiroshi Kanba
Article 9 Association (Japan)
What is emergency law (Japan)
Railway Worker's Trade Union News Year 2004/2003
Stop the introduction of the textbooks compiled by fascist "Tsukurukai" into classroom

PALESTINE et droits fondamentaux
Legal observer Training Manual (NLG) (pdf) Palestine
Palestinian refugees :
The right of return in International Law by Joshuha Taaffe (information,4)
International Humanitarian Law & Israel's Occupation of the Palestinian Territories by J. Taaffe (info,5)
Palestine face à la force, le droit international by M. Chemillier Gendreau
International Law and the al-Aqsa Intifada by R. Falk
Support for Wall Mocks International Law by R. Falk
From Nuremberg to Guantanamo by Lisa Hajjar
Facility 1391, Inside Israel's Secret Prison by A. Lavie
Facility 1391, Israel's Guantanamo by Jonathan Cook


Autres regards sur les libertés civiles et la citoyenneté dans le monde, les conséquences du capitalisme, soutien aux tribunaux d'opinion internationaux, guides de recherche

Theandrewmeyer.com
Andrew Meyer Arrested for Speaking at Kerry Forum
Andrew Meyer is currently incarcerated in Alachua County (jail, charged with disrupting a public event, C.P.). While asking U.S. Senator John Kerry a question during a question and answer period following Kerry's speech at the University of Florida, Meyer was attacked by five police officers, manhandled and tasered. Fortunately there are videos and many witnesses to this injustice. Some articles and videos are linked below. Please show your support by educating yourselves and raising awareness by letting others know what has happened. Continue checking back to this website for updates. & Student Tasered At Kerry Speech: Longer Version (youtube)

Souriez vous êtes filmés - l'association
Fichage et contrôle
Le totalitarisme policier et le fichage des populations
Comme sous le régime de Vichy ; fichage des populations considérées dangereuses...contrôlés, suspectés, enrôlés, catégorisés, exploités, policés, sanctionnés, poursuivis, pourchassés et torturés : adjectifs qui collent à la peau des personnes qui se trouvent du mauvais côté de la barrière : les sans papiers - les sans logis - les sans emplois - les jeunes de banlieue - les récalcitrants à l'ordre établi - les militants et les syndicalistes...
Nous avions dénoncé dès 1997, le fameux ficher STIC (Système de Traitement des Informations Constatées).
Il revêt un caractère menaçant et entre dans le renforcement des pouvoirs de police (rappelons que le décret a été voté tardivement le 5 juillet 2001). Il est utilisé dans le cadre d'enquêtes de police, et figure dans des dossiers d'instruction. Selon le syndicat général de la police, au 1er janvier 1997, le STIC contenait déjà 2,5 millions de " mis en cause ", suspecté à un moment donné ; 2,7 millions de victimes ; 5 millions de procédures et 6,3 millions d'infractions. Ainsi, la durée de conservation des informations peut varier de 5 à 40 ans, selon la gravité des faits. Les informations contenues dans le STIC perdurent, même dans le cas où une affaire a été classée ou s'est soldée par un non-lieu, mais aussi dans le cas où la personne interrogée s'est vue complètement écartée de toute relation à l'affaire. La mise à jour est prévue certes, sous contrôle du procureur, mais l'encombrement des services de justice ne laisse que peu d'espoir que de telles garanties soient mises en oeuvre. De plus aucune procédure d'effacement n'est prévue avant les délais légaux ; ce qui veut dire que l'ensemble de la population sera considéré comme délinquante...

HNS-info
Hactivist News Service

INTERNATIONAL JUSTICE TRIBUNE
"ICC Victims Trust Fund still in limbo
Nearly four years after it was established, with its board of directors up for re-election at the end of 2006, the Victims Trust Fund, and autonomous body of the International Criminal Court (ICC) is still not up and running. In December 2005, the ICC's Assembly of States Parties (ASP) finally adopted the Fund's bylaws [IJT-37] and decided to equip it with a secretariat, making it possible for the Fund to begin operating - at least in theory...."

TRIAL WATCH Track impunity always (Genève)

Rezo.net le portail des copains

mouvements.be
"Une initiative 100% israélienne par Michel Warschawski (Multitudes)
Les bombardements quotidiens israéliens à Gaza sont la cause de la guerre C'est une guerre globale de recolonisation Suite à une opération militaire menée de main de maître par l'organisation libanaise de résistance nationale Hezbollah, et la capture de deux prisonniers de guerre, l'armée israélienne a bombardé la capitale libanaise et de nombreux autres sites au sud du Liban. A l'heure où sont écrites ces lignes, le gouvernement israélien est en train de discuter de l'opportunité d'envahir le territoire (...) " & multitudes

L'Aviseur International - Marc Fievet & L'Etat des luttes contre le crime organisé
"...Pietro Grasso était juge-assesseur durant le maxiprocès de Palerme (1986-1987) et rédacteur du jugement de première instance. Il a ensuite été consultant pour la Commission antimafia, conseiller au ministère de la Justice lorsque Giovanni Falcone en assurait la direction, procureur adjoint près du Parquet national antimafia et procureur principal à Palerme. Certains magistrats lui ont reproché de ne pas poursuivre le travail du procureur Caselli sur le plan des rapports entre la mafia et la politique, mais il faut dire que les temps avaient changé, l'attention à l'égard du phénomène mafieux avait fléchi et le rôle de la magistrature, dans ce domaine, se limite aux affaires impliquant des délits. Je crois que, politiquement, on ne lutte plus contre la mafia depuis des années, le tout étant relégué à la magistrature.
Grasso est actuellement superprocureur national antimafia : les forces gouvernementales et de la majorité ont exclu Caselli par une loi ad personam concernant la limite d'âge ; chose honteuse et que j'ai dénoncée. Grasso n'a dit mot de cette exclusion et c'est lui qui a rejoint le Super Parquet. Les partis de droite ont évidemment préféré Grasso, lequel a déclaré, le jour suivant sa prise de fonction, que la lutte contre la mafia n'était plus au centre de l'attention, que le problème ne concernait pas uniquement la mafia militaire mais aussi la bourgeoisie mafieuse (expression que j'utilise dans mon analyse du système relationnel mafieux). Il a également clairement stipulé qu'il ne fallait pas, durant cette campagne électorale, proposer la candidature d'hommes mis en examen ou en procès, mais Forza Italia, et d'autres partis de centre droite, ont polémiqué sur ces déclarations. Il y a quelques jours, le Procureur Grasso a avoué que le thème de la mafia était absent et qu'il faudrait en parler pendant la campagne électorale et le Président de la Commission antimafia a déclaré, à propos de Forza Italia, qu'il s'agissait de "foutaises". En somme, les droites croyaient que Grasso était un personnage sur lequel on pouvait compter, mais le procureur entend prouver qu'il est autonome et poursuit son propre chemin.
En tant que superprocureur, il a un certain pouvoir, mais doit tenir compte du cadre politique, et si des dispositions comme le mandat d'amener européen ou la convention des Nations Unies, ratifiée à Palerme en décembre 2000, existent au niveau européen ou international, elles sont restées sur le papier, le gouvernement Berlusconi ne les ayant pas signées..."

Le rôle de la femme dans l'organisation mafieuse et dans la lutte contre la mafia par Anna Puglisi (Altermonde le village) — Italie
"Le rôle des femmes dans la lutte contre la mafia a toujours été très important, mais souvent oublié. Les femmes ont été les protagonistes du mouvement antimafia dès les luttes paysannes de la fin du XIXème siècle. Dans de nombreux villages siciliens, à l'intérieur des Fasci, on trouvait une présence massive de femmes ce qui suscita l'étonnement des chroniqueurs et des spécialistes contemporains. Même au cours des vagues successives de luttes pour la réforme agraire et pour des conditions de vie plus humaines dans les mines qui suivirent la première et la deuxième guerre, la présence des femmes a été significative bien que presque totalement ignorée, si l'on excepte quelques cas. Et pourtant, les femmes aussi ont payé leur tribut de sang, contrairement à ce qui a faussement été dit, à savoir qu'autrefois la mafia respectait les femmes et les enfants : les mafieux ont toujours tué sans se soucier du sexe ou de l'âge, parce que leur violence répond à des logiques bien précises d'acquisition et de maintien de pouvoir..."

bouddhismes.info 1, 2, 3
Un échange e-mail avec Im Hwa-Soen directeur bouddhiste et scientifique de bouddhismes.info nous conduit à informer les lecteurs sur ses orientations sociopolitiques et religieuses qui à première vue ne sont pas celles que suggèrent son site ni celles qui transparaissent dans ses messages de soutien ou de solidarité. Cet auteur français qui tient à la confidentialité de notre échange en appui sur une légitimité progressiste et critique radicale qui n'est pas la sienne et l'on comprendra pourquoi dès aujourd'hui et plus encore demain, ne trouve rien à redire sur le caractère odieusement exploitif du régime tibétain orthodoxe. Les différences de classes et de catégories liant/opposant les lamas tibétains aux serfs (Im Hwa-Soen, anthropologue, reconnaît cette catégorisation) n'étant pas si graves au regard des promesses de la doctrine et du sourire bouddhistes...Il se dit sans indignation sur le sujet.C.Pose

orlandoderudder.canalblog.com (archives 1 & 2)
"Critique du "messhi-hôkô" - II
Exterminer le soi et servir le bien public en tant que base dogmatique de l'orthodoxie fasciste du maître zen Yasutani Hakuun (1885-1973)
"Il va sans dire, écrit le maître zen Yasutani Hakuun, que les dirigeants du Syndicat des enseignants sont à l'avant-garde des faibles d'esprit (...) de concert avec les quatre partis politiques de l'opposition, le Syndicat des travailleurs de la fonction publique, l'Association des jeunes juristes, la Ligue des citoyens pour la paix au Vietnam, etc., ils ont entrepris de trahir la nation... Les universités que nous avons doivent être écrasées une bonne fois pour toutes. Si la Constitution actuelle ne permet pas de le faire, il faut se dépêcher de la déclarer nulle et non avenue, car c'est une constitution non japonaise qui fait beaucoup de tort à la nation, un faux et un rejeton bâtard des forces d'occupation alliées (1951)..."

lemmerdeurdesneocons.blog
"Le droit se retourne contre le droit 4
Geoffrey Geuens dans : "Les institutions internationales officielles FMI, OMC, BM, OCDE et le monde des affaires" (2003), et Jean Ziegler dans : "Des mercenaires dévoués et efficaces, portrait de groupe à la Banque Mondiale"(2002), établiront que les organisations économiques officielles ne sont plus à l'abri de l'influence des lobbys, des think tanks ("boîtes à idées"), des nouvelles stratégies impérialistes ou, selon l'économiste Russel Mokhiber des : "Coporate Predators" ...

BancPublic.be
Les nouveaux dossiers
Un syndicat pour le fleuve Niger by Kerim Maamer, Banc Public n°151 , Juin 2006
"Dans un article précédent, Kerim Maamer a évoqué l'importance du fleuve Niger, en tant que don exceptionnel pour les pays du Sahel. Cette ressource vitale s'avère gravement menacée par une baisse de pluviométrie, associée à un ensablement croissant, à une diminution de renouvellement de ses eaux, à l'amplification du rejet d'eaux usées, à l'intensification de l'exploitation des ressources du fleuve, à la pollution de la flore, à l'eutrophisation qui raréfie l'oxygène… la capacité d'autoépuration du fleuve n'est pas sans limites. Son état suscite de grandes inquiétudes..."

Drogues: au-delà de la prévention, la réduction des risques by Maxime Erculis, Banc Public n°151, Juin 2006
"Depuis la naissance de l'humanité et au cours des âges, toutes les sociétés humaines ont connu la drogue dans ses multiples aspects, du moteur religieux jusqu'à ce qui est largement considéré aujourd'hui comme un fléau. L'expérience a clairement montré que la prohibition, la répression et la prévention primaire ne font pas reculer le phénomène. Alors, quand quelqu'un a déjà fait le choix de consommer, que fait-on?.."

Adriana Evangelitz/Usa-menace.over-blog.com
"Quand on lit l'article de Jerry White, on comprend qu'il y a bien plus qu'un océan qui nous sépare des Etats-Unis. Cela ressemblerait davantage à un abîme sans fond tant leur mentalité diffère de la notre et tant ils sont à mille lieues de notre état d'esprit. Nous leur conseillons fortement de lire L'Esprit Français, ils verront ainsi que ce qui fait notre particularité n'est pas une légende et que nous ne possédons pas les mêmes valeurs qu'eux, c'est certain. Par contre, nous possédons une histoire qui a forgé ces valeurs. Je ne parle pas du Peuple Américain, à part entière, mais de ce qui l'a faconné dans sa plus grande majorité.
Ainsi les évènements qui se sont déroulés en France, suite à la fronde contre le CPE, furent l'occasion, pour la presse inféodée à l'élite étatsunienne, de vilipender le Peuple Français dans une attitude hostile voire même méprisante. Mais pourquoi l'ont-ils fait ? Nous sommes d'avis à penser qu'il n'y a jamais de fumée sans feu. Ils ont donc dénoncé avec virulence la « loi de la populace »...

Eric Freidhe.over-blog.com
Vidéos Militantes en libre diffusion!
Internet ouvre un choix colossal de sources d'informations. Un si vaste choix que s'y retrouver est de plus en plus compliqué! Depuis quelques mois, mettant à profit une salutaire panne télévisuelle que je me refuse pour l'instant à faire réparer, j'ai donc consacré du temps à chercher des images alternatives. Vous trouverez donc ci-dessous un classement thématique et provisoire du fruit de ces recherches, libre à vous ensuite de télécharger et de diffuser, les auteurs ne demandant en général que ça, sous réserve d'une utilisation strictement non-commerciale bien entendu!
N'hésitez pas à compléter/rectifier (liens brisés, etc) ce début de catalogue essentiellement francophone (pour d'évidentes raisons de comprenette personnelle plus que partagées!) des ressources disponibles en utilisant la fonction "commentaires"!

Le Blogue de Cybersolidaires
"Les préadolescentes sont ciblées par les marchés de la mode, de la musique, des magazines et du cinéma. On leur présente des modèles sexy aux comportements provoquants, ce qui est susceptible de les encourager à accorder une importance démesurée à l'image, à la minceur, à la séduction et aux relations amoureuses...."

Les Pénélopes
"Aucune femme ne naît pour être une pute
L'idée de l'exposition "Aucune femme ne naît pour être une pute" est née en Bolivie, puis s'est déplacée à Buenos Aires où les femmes de l'organisation Ammar-Capital (Association de Femmes Argentines pour les Droits humains) se la sont appropriées. Cette exposition n'est pas là pour raconter l'horreur que vivent les prostituées au quotidien mais pour essayer de faire en sorte que les mentalités évoluent afin de ne plus considérer la prostitution comme un simple "travail"..."

Réseau d'Information & de Solidarité avec l'Amérique Latine (RISAL)
Remontée de l'Orénoque jusqu'à la bouche du Casiquiare
Amazonas : état oublié du Venezuela (1ère partie)
"Samariapo, Etat d'Amazonas - C'est donc ici que la route s'achève. A partir de Samariapo, port minuscule situé à 40 miles au sud de Puerto Ayacucho, il n'y a plus moyen de voyager en voiture. A partir de maintenant, il n'y a plus que des bateaux, ou pour les plus chanceux, des avions. C'est ici que débutera mon voyage, presque une expédition pour San Carlos de Rio Negro, à environ 1 000 miles plus loin au sud. Le voyage durera huit jours. Huit jours de rivières, de jungle, de moustiques, de chaleur..."

Centro Siciliano di Documentazione "Giuseppe Impastato"
(CSD, Palerme, voir plus bas la rubrique Recherche de matériaux d'histoire criminelle, lutte anti-mafia)
"Il Centro siciliano di documentazione è il primo centro studi sulla mafia sorto in Italia.
Fondato nel 1977 da Umberto Santino e Anna Puglisi, si è formalmente costituito come Associazione culturale nel maggio del 1980 ed è stato intitolato al militante della Nuova Sinistra Giuseppe Impastato, assassinato dalla mafia il 9 maggio 1978.
Dal 1998 il Centro si è trasformato in Onlus (Organizzazione non lucrativa di utilità sociale). ...

The South Asia Citizens Web (sacw)
"Towards a Politics of Justice
Affirming Diversities; Resisting Divisiveness
Declaration of the National Co-ordination Committee of the Seventh National Conference of Autonomous Women's Movements in India, Kolkata - 9th to 12th September, 2006
Since 1980, six National Conferences have been organised by autonomous women's groups, in response to our need to link up with each other, to share experiences and build friendships, express solidarity with each other's struggles, strategise and formulate joint action plans for the future. Over the years, the Conferences have evolved as a space for expression of our ideas, politics and struggles - where no one voice is more important than another, but rather, where the spirit of democracy, sisterhood and solidarity seeks to encourage debate and dialogue. We hope that this upcoming Conference too will reflect the rich history of women's movements in India, build on our collective strengths, make visible the continuing intervention of women in society for justice, and our solidarity with the struggles of all people for equality and justice..."

South Asia Counter Information Project (Archives critiques)

Les Alternatifs
"Les Alternatifs lancent une pétition pour appeler les démocrates européens à se mobiliser pour demander l'élection d'une assemblée constituante européenne, au suffrage universel, le même jour, dans les 25 pays de l'Union européenne.
Le projet de traité constitutionnel européen est, pour le moment, au point mort. L'histoire hésite.
Le moment est favorable pour une initiative populaire en faveur de l'élaboration démocratique d'une constitution pour l'Union européenne. Pour que les peuples puissent dire quel type d'institutions ils veulent. Une campagne pour l'élection au suffrage universel, à la proportionnelle et le même jour, dans les 25 Etats de l'Union, d'une Assemblée européenne constituante sera le premier pas pour la construction d'une Union européenne démocratique. Elle mettra enfin et l'Europe et la démocratie au centre de l'espace public européen.
Qui peut se dire démocrate et refuser l'élection d'une Constituante ? Qui peut se dire pro-européen et refuser une Constitution démocratique ? ..."

Les Amis du Monde Diplomatique-AMD
" « Cinémas engagés ». : tel est le titre du n° 88 de Manière de voir, coordonné par Dominique Vidal, qui sort en kiosque le 12 juillet 2006. Un numéro exceptionnel, à ne pas manquer, à plusieurs titres. D'abord parce que c'est la première fois que la revue consacre un dossier au cinéma, art populaire s'il en est. Ensuite par son contenu : pas moins de 26 articles dont 5 inédits classés en deux grandes parties, chacune précédée d'une grande introduction. La première est consacrée au cinéma « face à la guerre » depuis le début du XXe siècle. Lionel Richard ouvre le feu en nous invitant à redécouvrir Le Cuirassé "Potemkine". Suivent les évocations de la guerre d'Espagne, avec Carlos Pardo, de l'Occupation, avec Joseph Daniel et des films soviétiques au temps de la guerre froide, avec Marc Ferro. Ignacio Ramonet et Christian Zimmer nous parlent du cinéma et de la guerre du Vietnam et Amnon Kapeliouk du conflit israélo-palestinien...."

AMD-Canada et André Thibault
Quand la démocratie participative confronte le monde politique
Bien des citoyens politisés ont développé un scepticisme croissant face au caractère de " gouvernement par le peuple et pour le peuple " qui justifie le mandat de représentation donné aux élus dans le système actuel. En face de ces institutions, le pouvoir citoyen acquiert plus de réalité à l'occasion de la mise en œuvre d'expériences concrètes de démocratie participative et de démocratie directe. Nous allons explorer le sens de certaines expériences concrètes dans ce sens, mais aussi examiner comment la démocratie de délégation peut retrouver de la légitimité dans sa relation avec cette effervescence citoyenne, lors de notre prochaine conférence/débat intitulée...

AMD-Japon
Archives de Robinson Rojas et les oeuvres de Robinson Rojas, casiers judiciaires : Pinochet
PULSAR, Agencia informativa (Guatemala, Chili, Bolivie, Venezuela, Bresil, Cuba, Costa Rica, Mexique...)
Dissident voice
Kurt Nimmo
Michel Collon, investigation
Amnistia.net
Etienne Chouard
Comaguer (comprendre et agir contre la guerre)
Chomsky.info
Andre Gunder Frank website
Mondialisation.be

John Pilger.com
Venezuela's president is using oil revenues to liberate the poor - no wonder his enemies want to overthrow him...by John Pilger 13/5/06
"Latin American governments often give their regimes a new sense of legitimacy by holding a constituent assembly that drafts a new constitution. When he was elected in 1998, Chávez used this brilliantly to decentralise, to give the impoverished grassroots power they had never known and to begin to dismantle a corrupt political superstructure as a prerequisite to changing the direction of the economy. His setting-up of misions as a means of bypassing saboteurs in the old, corrupt bureaucracy was typical of the extraordinary political and social imagination that is changing Venezuela peacefully. This is his "Bolivarian revolution", which, at this stage, is not dissimilar to the post-war European social democracies.
...Chávez is, of course, a threat, especially to the United States. Like the Sandinistas in Nicaragua, who based their revolution on the English co-operative moment, and the moderate Allende in Chile, he offers the threat of an alternative way of developing a decent society: in other words, the threat of a good example in a continent where the majority of humanity has long suffered a Washington-designed peonage. In the US media in the 1980s, the "threat" of tiny Nicaragua was seriously debated until it was crushed. Venezuela is clearly being "softened up" for something similar. A US army publication, Doctrine for Asymmetric War against Venezuela, describes Chávez and the Bolivarian revolution as the "largest threat since the Soviet Union and Communism". When I said to Chávez that the US historically had had its way in Latin America, he replied: "Yes, and my assassination would come as no surprise. But the empire is in trouble, and the people of Venezuela will resist an attack. We ask only for the support of all true democrats."

APPEL DES 200
Collectif National du 29 Mai, nouveau site
"En rejetant le « traité constitutionnel européen », le 29 mai 2005, la majorité des citoyens a clairement exprimé son refus des politiques libérales en France comme en Europe.
Organisations politiques, syndicales, associatives, mouvements sociaux, citoyennes et citoyens, constitués en centaines de collectifs unitaires ont massivement contribué à la victoire du « non ».
Principal animateur de la campagne, le Collectif national pour un Non de gauche, issu de l'Appel des 200, est désormais élargi à de nouvelles composantes. Il a décidé de s'appeler « Collectif National du 29 mai » pour poursuivre l'action et construire, ensemble, une alternative au libéralisme.
Dès le 25 juin 2005, une réunion nationale des collectifs s'est tenue en région parisienne et a adopté la déclaration de Nanterre.
Le 21 septembre 2005, une conférence de presse a renouvelé la volonté partagée de construire une alternative politique résolument antilibérale en publiant une déclaration intitulée « Après le 29 mai, on continue ! ».
Après la seconde réunion nationale des collectifs, les 3 et 4 décembre 2005 à Paris, se projettent, au printemps 2006, des « Assises nationales pour une alternative antilibérale ».
Ce site est la traduction de cette volonté unitaire en publiant propositions, contributions, documentations et en donnant toute leur place aux initiatives nationales mais aussi à toutes celles mises en œuvre par les collectifs locaux..."

Globalization & War, texts & analysis by author
Jean Dornac, Altermonde -levillage
CETRI (François Houtart)
Chaire de recherche du Canada en mondialisation, citoyenneté et démocratie (Jules Duchastel)
Libéralisation et fractures sociales : le cas des Amériques et de la Chine (Pierre Beaudet, Victor Armony...)
Analyse de la mutation contemporaine du capitalisme français par le biais de l'école canadienne de l'étude des élites (Olivier Régol,pdf)
Michael Mandel, la Charte des droits et libertés et la juridiciarisation du politique au Canada (Raphaël Canet, pdf)
Centre for Research on Globalization (Michel Chossudovsky)
Alternatives
Le contrôle militaire de la planète (Samir Amin)
Mondialisation des Résistances 2004 - L'Amérique du Nord (Pierre Beaudet)

The Project for the First People's Century (Robinson Rojas)
Projet pour le
Premier Siècle Populaire Motivation et Déclaration de Principes
Le 3 juin 1997 , un groupe d'activistes américains qui se décrivent eux-même comme des néo-conservateurs , communément appelés depuis lors les « néo-cons » dans le monde anglo-saxon , et certains de leurs partisans les plus inconditionnels ont publié sur la toile une « Déclaration de principes » pour leur Project of the New American Century (Projet du Nouveau siècle Américain) , aussi connu sous le sigle PNAC. Dans ce texte, ils déclarent : « Nous avons pour objectif de convaincre du bien fondé d'un leadership américain mondial et d'y rallier des partisans. Alors que le 20ème siècle s'achève , les États-Unis se présentent comme le pouvoir mondial prééminent. Ayant guidé l'Occident jusqu'à la victoire lors de la Guerre Froide , l'Amérique fait maintenant face à une opportunité et à un défi : les États-Unis ont-ils la vision de construire sur les victoires des décennies passées ? Les États-Unis sont-ils résolus à façonner un nouveau siècle favorable aux principes et aux intérêts américains ?
De tels « principes et intérêts américains » furent annoncés pour la première fois le 24 février 1948 au début de la Guerre Froide par Georges Kennan — qui était à l'époque directeur du State Department Planning américain (Bureau de Plannification du Départment d'État américain) et diplomate, auteur de la doctrine d'encerclement de l'Union Soviétique qui détermina la politique américaine tout au long de la Guerre Froide. Ce qui suit est un passage clé de la déclaration de Georges Kennan (c'est nous qui soulignons):
« Nous [les Américains] possèdons environ 60% de la richesse du monde mais représentons seulement 6,3% de sa population. Notre véritable tâche dans la période qui s'annonce (sera) de maintenir cette position de disparité. Nous ne devons pas nous bercer d'illusions et croire que nous pouvons nous permettre le luxe de l'altruisme et de la bienfaisance mondiale… Le jour est proche où nous devrons agir comme une véritable puissance. Ainsi , moins nous serons freinés par des mots d'ordre idéalistes mieux ce sera. »...

BRussells Tribunal : The People vs.Total War Incorporated (François Houtart, Bruxelles,14/4/04)
Le BRussells Tribunal est un comité d'audience composé d'universitaires, d'intellectuels et d'artistes, dans la tradition du Tribunal Russell, créé en 1967 pour enquêter sur les crimes de guerre commis durant la Guerre du Vietnam.
En 2004 le Tribunal sera présidé par le Professeur François Houtart, l'un des pères fondateurs du Forum social mondial de Porto Alegre. Ce Tribunal s'oppose à la guerre en Irak et à l'impérialisme guerrier prôné par l'administration Bush II. Il s'est attaqué dans sa dernière édition au PNAC (« Project for a New American Century », Projet du nouveau siècle américain), le groupe de réflexion néoconservateur qui soutient cette guerre, et en particulier aux trois co-signataires de sa déclaration de mission: Donald Rumsfeld, Dick Cheney et Paul Wolfowitz. Ceux-ci sont en effet le lien physique entre le discours et la mise en pratique brutale du nouvel ordre impérial, énoncé dans le PNAC.
Quelques mots sur le PNAC
L'acronyme PNAC est à la base de la guerre en Irak et de bien d'autres confl its à venir. C'est au printemps 1997 que les néo-conservateurs Robert Kagan et William Kristol du Weekly Standard fondèrent le « Projet du nouveau siècle américain » ( Project for the New American Century, PNAC). Les signataires les plus célèbres de la déclaration de mission sont Dick Les signataires les plus célèbres de la déclaration de mission sont Dick Cheney, Donald Rumsfeld, Jeb Bush (le frère de George W.), Francis Fukuyama et, dernier mais non le moindre, Paul Wolfowitz, anciennement professeur de Politique Internationale et doyen du département de Politique Internationale de l'Université John Hopkins. Son directeur actuel est Gary Schmitt. Soulignons que nombre de ses membres sont étroitement liés à l'industrie militaire et pétrolière. Le PNAC se décrit lui-même comme « une organisation à but non lucratif, éducative, qui vise à promouvoir le leadership américain mondial».
Sa « Déclaration de principe » est sans équivoque : « L'histoire du XXème siècle devrait nous avoir appris qu'il vaut mieux infl uencer la marche des événements avant qu'émergent les crises, et répondre aux menaces avant qu'elles n'aient des conséquences désastreuses. L'histoire de ce siècle devrait nous avoir appris à embrasser la cause du leadership américain mondial » (il s'agit de la doctrine de « l'attaque préventive » et de « l'hégémonie bienveillante »). Le PNAC s'articule autour d'un programme en quatre points, qui doit lui permettre d'accomplir sa mission :
• « Nous devons augmenter considérablement nos dépenses dans le domaine de la défense si nous voulons assumer aujourd'hui nous responsabilités mondiales, et moderniser nos forces armées pour l'avenir » ;
• « Nous devons renforcer nos liens avec nos alliés démocratiques et remettre en question les régimes hostiles à nos intérêts et à nos valeurs » ;
• « Nous devons promouvoir la cause de la liberté politique et économique à l'étranger» ;
• « Il nous faut accepter la responsabilité du rôle unique de l'Amérique dans la sauvegarde et l'expansion d'un ordre international favorable à notre sécurité, à notre prospérité et à nos principes »...

ICTI, Let's try Bush & Koizumi for the war crimes against Iraq (Tokyo, 5/10/03)
"Let's try Bush for the war crimes against Iraq
an appeal to establish the International Criminal Tribunal for Iraq?(draft)
On March 20th, 2003, the US/UK allied forces bulldozed their way into attacking Iraq, overthrew the Hussein regime, and today, still continues the de facto military occupation of the country. President Bush and Prime Minister Blair schemed to make the UN security council adopt a war resolution, but as soon as they failed to do so, changed their reasons of justification for war one after another, and eventually forced their way into war.
On the contrary, France and other nations in the security council clearly pointed out there was no reason for attacking Iraq and blocked the war resolution. Voices and will against Bush?s aggression realized huge internationally coordinated anti-war demonstrations unprecedented in the history of human being.
Nevertheless, Bush and Blair started Iraqi invasion with the hyper aggressive air raid named 'shock and awe' , massacred thousands of innocent Iraqi civilians, and destroyed the cities.
After the collapse of the Hussein regime, the US/UK forces have continued their de facto military occupation.
Their slogan of 'liberation of Iraqi people' is nothing but fraud; in reality, however, order has not been restored in Iraq, rocket bombs are flying and pipelines are burning, and resistance seems to continue against the US/UK military. Though Bush condemns this resistance as terrorism, and is intensifying the counterinsurgency operations, this resistance by the people of Iraq connotes their opposition against the illegal invasion and occupation by the US/UK military..."

The International Criminal Tribunal for Iraq
Judgment
12 December 2004
Note: Final Judgment covering all charges, including those raised
in supplementary indictment, is to be issued at the final trial
in March 2005.
"The International Criminal Tribunal for Iraq (ICTI), sitting from July 17 to 18, 2004 in Kyoto and from December 11 to 12, 2004 in Tokyo, heard the evidences, testimonies and views presented at these trials as well as numerous public hearings held in various places in Japan throughout this period. The judgment delivered today is the unanimous court opinion of the Tribunal composed of four judges of the ICTI, who participated in this Tribunal from Korea, Indonesia and Japan. This judgment will be complemented by individuals opinions by each judge who wishes to record his or her opinion separately.
The defendants before this Tribunal are George W. Bush, the President of the United States, Tony Blair, the prime minister of the United Kingdom, Koizumi Jun-ichiro, the prime minister of Japan, and Gloria M. Arroyo, the President of the Philippines. They are all serving presidents or prime ministers, and under the current framework of international law, crimes committed by serving heads of state or ministers could be appropriately prosecuted at the International Criminal Court (ICC), which came into existence on July 1, 2002. On the other hand, elements including the fact that most of the home countries of these defendants, except for the United Kingdom, have not yet ratified the Statute of the ICC have made the chances of actualizing such path practically improbable. However, even serving heads of state or ministers shall not be above the law, especially international law, and if the realization of the rule of law is being prevented by malfunction of international legal system, it is the role of civil society of the world to speak the law and act in the name of all human beings who share common values and moral conscience. People's Tribunals established to that effect have long history dating back to the Vietnam War Crimes Tribunal (The Russell Tribunal) in the late 1960s, followed notably by the International War Crimes Tribunal on the United States' War Crimes against Iraq in 1992, the Women's International War Crimes Tribunal in 2000 and the International Criminal Tribunal for Afghanistan in 2003, and this International Criminal Tribunal for Iraq joins such efforts supported by the voices of world opinion, which constitute the essential and genuine basis of the ultimate validity of the body of international law...."

The US.UK Engineered Genocidal Sanction Against Irak 1990-2003 (Ch.Scherrer, Hiroshima Peace Institute, pdf)
Action to Indict Bush-Blair (Tokyo,2004)

United Nations Conventions on the Crime of Apartheid
by STOP THE WALL (11/04/04)
United Nations Convention on the Crime of Apartheid
United Nations Convention, United Nations, April 11th, 2004
International Convention on the Suppression
and Punishment of the Crime of Apartheid
Adopted and opened for signature, ratification by
General Assembly resolution 3068 (XXVIII)
of 30 November 1973
entry into force 18 July 1976, in accordance with article X...

Vermonters for a Just peace in Palestine (VTJP)
Interview with Hany Abu Assad,
"Paradise Now"
"On Friday, October 28, the new Palestinian drama "Paradise Now" will open in New York City and will then be released in select cities. This film was directed by Palestinian filmmaker Hany Abu Assad, who is known for his previous international award winning films "Rana's Wedding" and "Ford Transit."
In "Paradise Now," Abu-Assad takes a more daring step in the history of Palestinian cinematography. The story of the film takes us inside the occupied West Bank city of Nablus, and follows two Palestinian young men as they prepare to carry out an attack inside Israel. The film was entirely filmed in the Palestinian territories and Israel.
The film has already caught the attention of many International Film Festivals such as the New York, Toronto, Berlin, and the Telluride 2005 Film Festivals and has already won the Blue Angel Award 2005 for Best European Film and the Amnesty International Award 2005. Palestine will be submitting the movie to the Academy of Motion Picture Arts and Sciences as its official entry for best foreign language film. The film will be distributed in the United States by Warner Brothers Studios. For more information about "Paradise now," please see the official site..."

La «National Lawyers Guild» appelle à poursuivre le président Bush pour son rôle dans l'utilisation de la torture
Le Discours à la nation de 2003 constitue une reconnaissance implicite par Bush de son rôle
New York, le 18 juin 2004
La «National Lawyers Guild» demande la mise en accusation du président George W. Bush selon la doctrine juridique de «responsabilité de commandement» en vertu de la Loi sur les crimes de guerre. Bush peut être mis en accusation en vertu de la Loi sur les crimes de guerre ou du Statut sur la torture, s'il était informé ou aurait dû être informé de l'utilisation de la torture par l'armée états-unienne et s'il a omis de cesser ou de faire cesser celle-ci. Le discours à la nation du président de janvier 2003 contient un commentaire qui constitue une reconnaissance implicite par Bush qu'il avait sanctionné l'exécution sommaire d'un certain nombre de personnes : «En fait plus de 3 000 présumés terroristes ont été arrêtés dans plusieurs pays et plusieurs autres ont connu un sort différent» a dit Bush, qui a poursuivi en affirmant qu' «en d'autres termes, ces personnes ne constituent plus un problème pour les États-Unis et pour nos amis et alliés....
Fondée en 1937, la «National Lawyers Guild» (Association nationale d'avocats) comprend plus de 6 000 membres et militants et militantes oeuvrant au service du peuple. Elle a son siège national à New York, des chapitres dans presque tous les États des États-Unis et plus de 100 chapitres d'écoles de droit. Les membres de la Guilde offrent de l'aide juridique lors des manifestations progressistes dans tous les États-Unis et dénoncent la tendance croissante vers l'utilisation de mesures de plus en plus répressives contre les actes de protestation politique dans tous les États-Unis. .."

BELGIQUE
Legislations antiterroristes européennes et protection des droits de l'homme
by Progress Lawyers Network
L'avocat Raf Jespers (PTB) met en garde contre la législation antiterroriste en Belgique
"Cette loi vise avant tout à criminaliser les luttes sociales et syndicales. Pour punir les véritables actes de terrorisme, les lois existantes sont suffisamment efficaces. C'est ce que déclare l'avocat PTB Raf Jespers à propos du projet de loi contre le terrorisme.
Q.Devons-nous être vigilants à propos de ce projet de loi ?
Raf Jespers. Plus que vigilants ! Il faut faire quelque chose contre ce projet. Et cela vaut pour le mouvement progressiste au sens large, syndicats y compris. Selon moi, ce projet de loi constitue l'attaque la plus importante, depuis la Seconde Guerre mondiale, contre tout mouvement social ou politique qui n'accepte pas la logique capitaliste. En outre, la loi permet de criminaliser les actions de masse et les actions syndicales radicales et de rendre impossible, en Belgique, toute véritable solidarité avec les mouvements de libération dans le tiers monde. Ce qui me rend vigilant, c'est l'absence quasi totale de critique qui règne autour de ce projet de loi, et au sein du parlement, et au sein des milieux de gauche et progressistes. Visiblement, la crainte d'être identifié au « terrorisme » est très paralysante. Par ailleurs, progressivement, on entend néanmoins davantage de critique à l'encontre de l'usage abusif, sur le plan mondial, de la lutte contre le terrorisme. Fin juin, des experts de la Commission des droits de l'homme des Nations unies s'alarmaient des atteintes croissantes perpétrées contre les droits de l'homme sous le prétexte de vouloir lutter contre le terrorisme. L'an dernier, plusieurs centaines d'avocats et juristes européens signaient un appel dans lequel ils mettaient en garde contre les atteintes aux droits fondamentaux que représentait la décision-cadre européenne contre le terrorisme. Je me demande si ces avertissements sérieux sont réellement parvenus aux oreilles du parlement belge..."

Les syndicalistes bientôt considérés comme des terroristes by A. Bernard
"En bloquant l'entrée d'une entreprise lors d'un piquet de grève, vous pourriez bientôt être accusé d'avoir participé à un acte terroriste. Un colloque organisé ce 27 février à Bruxelles propose aux syndicalistes et démocrates les arguments d'une riposte.
Une loi dictée
par l'Europe
Infractions terroristes? Le 11 décembre 2003, le parlement belge a effectivement voté la loi sur les infractions terroristes. Cette loi fait suite à une décision-cadre du conseil de l'Union européenne, qui impose aux Etats membres de transposer certaines dispositions en matière de lutte contre le terrorisme.
Elle n'a suscité aucune discussion substantielle sur les bancs du parlement. Et ce, malgré les protestations de certaines personnalités pour qui cette loi permet une criminalisation des mouvements politiques et sociaux radicaux. Un appel européen avait déjà été lancé en novembre 2001 sous le titre: «Les droits démocratiques ne doivent pas devenir les dommages collatéraux de la guerre contre le terrorisme».
Selon cet appel, «le projet est présenté comme une réaction aux attentats de New York et de Washington. Pourtant, dans l'état actuel de la législation, les auteurs d'attentats similaires ne pourraient rester impunis dans aucun pays européen. La nouvelle législation proposée par la décision-cadre du Conseil n'ajoute dès lors aucune plus-value à l'arsenal législatif qui permet de combattre des actions de cette nature. Par contre, la définition proposée est à ce point large qu'elle permettrait de criminaliser et de qualifier de «terroriste» toute forme de lutte sociale».
La loi belge permet aussi de telles dérives..."

ALGERIE
Les violations des libertés syndicales en Algérie by Sahra Kettab
"L'exercice du droit syndical en Algérie n'est certes plus ce qu'il était du temps du parti et de la pensée unique, mais il reste encore très largement dépendant du pouvoir en place depuis plus de trente ans. Alors même que, dès le début des années 1990, les textes législatifs avaient consacré l'ère du pluralisme syndical, celui-ci n'apparaît aujourd'hui que comme un pluralisme « de façade ». En dépit des affiches et des panneaux qui entourent le siège syndical de l'UGTA (Union générale des travailleurs algériens), union syndicale historique, et du dynamisme de quelques syndicats autonomes, nés dans certains secteurs de l'économie, la scène syndicale algérienne demeure « propriété d'État.
Dans un contexte de libéralisation économique accrue, la situation sociale en Algérie est extrêmement préoccupante. La multiplication des mouvements sociaux depuis 2000 est le révélateur de la dégradation des conditions économiques et sociales de la population : le chô-mage est endémique, la pénurie de logements criante, l'immense majorité des Algériens voit ses conditions d'existence se dégrader sans espoir ou perspective d'amélioration, malgré les richesses tirées de l'exportation des hydrocarbures. La rue, avec son cortège de débordements, de dérives, voire de violences, devient le seul espace d'expression du malaise qui gagne toutes les couches de la société.
Ainsi, les libertés syndicales, pourtant garanties par les instruments internationaux ratifiés par l'Algérie, notamment le Pacte international sur les droits civils et politiques, le Pacte international sur les droits économiques, sociaux et culturels, ainsi que les conventions de l'Organisation internationale du travail (OIT), sont régulièrement violées. Harcèlement judiciaire, interdiction de tenir des réunions, entraves à la création de nouveaux syndicats, menaces et violences policières à l'encontre de syndicalistes : la liste dressée dans ce dossier témoigne du quotidien difficile des nouveaux syndicats indépendants algériens..."

Les instruments juridiques de la répression en Algérie by Yahia Assam
"Après la répression brutale des manifestations organisées en mai 1991 dans le cadre de la grève générale illimitée lancée par le FIS, le président Chadli Bendjedid décrétait l'état de siège, le 5 juin 1991, reportait les élections législatives prévues à la fin du mois et annonçait la démission du gouvernement du « réformateur » Mouloud Hamrouche. Dès lors, le haut commandement militaire ne cessera de renforcer son emprise sur l'appareil d'État et la société. Ce processus va connaître trois phases, qui seront accompagnées de la mise en place progressive d'instruments juridiques permettant aux décideurs militaires à la fois de donner à leur pouvoir des apparences de légalité et d'étouffer toute évolution de la société algérienne vers la démocratie :
Une phase de préparation. Après la promulgation de l'état de siège en juin 1991, plusieurs décrets exécutifs ont permis de donner, dans le cadre de la loi, pleins pouvoirs à l'armée pour placer des milliers de personnes arrêtées dans des « centres de sûreté », interdire les réunions et des publications. Cette campagne d'arrestation vise à recenser les militants islamistes du FIS et à tester les capacités de la société en général et de l'opposition en particulier face à la remise en cause des acquis démocratiques de la période 1989-1990. La loi du 6 décembre 1991, suivi d'un décret présidentiel du 21 décembre 1991, va donner au comman-dement militaire plus d'autonomie d'action par rapport au président. Cette loi permet ainsi à l'armée d'intervenir en cas de trouble à la demande du chef du gouvernement (acquis au commandement militaire), et non pas du président comme s'était le cas auparavant. Dans la foulée, deux autres lois restrictives vont être votées concernant les libertés syndicales et les réunions publiques...

ALGERIA-WATCH
Observatoire des droits humains en Algérie
5 mars 2006: Un citoyen tué par balles au commissariat de Zeralda (Alger).
Fayçal Abikchi , 30 ans, artisan, demeurant à Zeralda (Alger) a été tué au commissariat de la ville, dimanche 05 mars 2006 à l'aube. Il s'était rendu au siège de la police suite à un mystérieux coup de téléphone reçu en pleine nuit.
Dès que l'information de la mort de ce citoyen est parvenue à ses parents et amis, une foule nombreuse est sortie dans la rue pour crier sa colère et son indignation. De violents affrontements ont eu lieu sur l'artère principale de la ville avec les services de sécurité. De nombreux blessés sont à déplorer. Des édifices publics ont été attaqués à coups de pierres et de nombreuses barricades dressées sur la route. Le mouvement populaire de protestation ne prendra fin que tard dans la nuit...

"Disparus" by Algeria-watch
1000 cas de disparitions forcées (1992-2001)
Liste établie par Dr. Salah-Eddine Sidhoum et Algeria-Watch
sur la base des informations rassemblées par Dr. Salah-Eddine Sidhoum, Me Mahmoud Khelili, Me Sofiane Chouiter, Me Mohamed Tahri, Mohamed Smaïn, Amina Kadi, Amnesty International, SOS disparus, le Collectif des familles de Disparu(e)s, l'association des familles de disparus de Constantine
Publiée par Algeria-Watch, 11 janvier 2002, actualisée juin 2003
Cette liste non exhaustive de personnes disparues a pu être réalisée grâce au travail courageux d'une poignée de défenseurs des droits humains et à la détermination des familles des victimes qui malgré les intimidations, persécutions et menaces ont persévéré dans cette quête de vérité. Il est probable que des imprécisions et des erreurs aient été transmises, vu les conditions de travail sur le terrain extrêmement difficiles. Nous lançons un appel aux témoins et familles de victimes pour apporter des compléments d'informations et nous informer de cas de disparitions que nous n'avons pas répertoriés.
A B C D E F G H I K L M N O R S T Y Z....

A
Abbane Abdelhalim, né le 10 octobre 1962, père de deux fillettes, commerçant (magasin d'alimentation générale) a été arrêté avec son épouse à son domicile sis au quartier Meissonnier (Alger) au n° 14 le 4 février 1997 à 22 heures par des hommes du PCO de Châteauneuf (sécurité militaire) Ils ont arrêté dans le même quartier et à la même heure les citoyens Djebila Lies et Saïd Ghilmi. L'épouse de Abbane a été gardée durant trois jours puis a été libérée. Quelques jours après, les mêmes agents revinrent au domicile, accompagnés de Mr Abbane. Ce dernier avait le visage marqué par la torture. L'épouse qui a été libérée raconte qu'elle avait été enfermée dans une cellule. Elle n'a pas été brutalisée mais les tortionnaires la faisaient assister à la torture de son mari. Il a été torturé près de huit fois par jour. Ils lui auraient fracturé sa jambe. Deux jeunes qui étaient incarcérés avec Abbane ont déclaré après leur libération l'avoir formellement vu ainsi que Liès Djebila et Saïd Ghilmi dans la cour du PCO.

Abbar Mohamed, né le 7 février 1972, demeurant à Baraki (Alger), célibataire, marchand de légumes, arrêté le 31 mai 1995 par des militaires de la caserne de Bentalha (Alger) lors d'une rafle opérée à la recherche d'« insoumis » du service national. De nombreux citoyens avaient été arrêtés au cours de cette rafle. Il est à noter que Abbar Mohamed avait effectué son service national.

Abbas Amirat, né le 18 août 1961, demeurant à Sidi Daoud (Boumerdés), marié et professeur de lycée à Dellys, a été arrêté en novembre 1996 à son domicile par des miliciens de Réghaïa. Sa femme et ses enfants étaient témoins de l'arrestation.

Abdedaim Ali, né le 18 décembre 1978, célibataire, sans profession, demeurant à Constantine. Arrêté le 13 mars 1995 à 17h par la police. Il a été arrêté pour vol. D'autres jeunes auraient été arrêtés le même jour. Deux ont réapparus, sept ont disparus

Abdelaoui Djelloul, né le 26 mai 1936 à Cherchell, marié et père de 7 enfants, fellah, demeurant à Fouka (Tipaza). Arrêté le 10 mai 1995 à minuit à son domicile par des gendarmes et des miliciens de Fouka. Son épouse signale que le lopin de terrain agricole accordé par les autorités à son mari dans le cadre de l'autogestion, lui a été retiré après son enlèvement, laissant la famille sans ressources.

Abdelaoui Nacer, né le 7 septembre 1963, célibataire, demeurant à Kouba (Alger), arrêté le 4 décembre 1994 à minuit au domicile familial par des forces combinées accompagnées d'un homme en cagoule. Une perquisition a été effectuée le jour de l'enlèvement. Plainte au niveau du procureur, tribunal de Hussein Dey le 1er janvier 1998. Lettres au président de la République, Médiateur, Ministre de la Justice, l'ONDH, Procureur de la Cour d'Alger, Procureur d'Hussein Dey le 13 janvier 1998. ....

B
Bachioua Saâdi, né le 5 avril 1950, demeurant à Badjarah, Alger, marié, commerçant. Arrêté le 24 février 1997 à 10 h du matin par des agents de la SM à son lieu de travail. Ces agents emmenèrent le fils Nabil âgé de 22 ans avec le père au centre de Ben Aknoun. Nabil fut relâché après deux jours.

Bachiri Abdelaziz, né présumé en 1958, marié et père de 5 enfants, vulcanisateur (à la Sonelec), demeurant à la ferme Casenave, Gué de Constantine (Alger), arrêté par des militaires le 19 octobre 1996 à 23h 30 à son domicile par des militaires, en présence de son épouse et de ses enfants après avoir perquisitionné son domicile. Son frère Lakhdar a été arrêté en même temps que lui. Les militaires étaient dirigés par le capitaine G. de la caserne de Aïn Naadja qui a été reconnu par la mère (il serait actuellement colonel). Le capitaine B. de la caserne de Aïn Naadja avait reconnu l'enlèvement et avait promis à sa mère de le libérer un mois plus tard. Plaintes déposées au tribunal d'Alger et d'Hussein-Dey.

Bachiri Lakhdar, né le 17 avril 1965, marié et père d'un enfant, commerçant au marché du Gué de Constantine, demeurant à la ferme Casenave, Gué de Constantine (Alger), arrêté par des militaires le 19 octobre 1996 à 23h, après avoir effectué une perquisition au domicile. Son frère Abdelaziz a été arrêté en même temps que lui. Les militaires étaient dirigés le capitaine G. de la caserne de Aïn Naadja qui a été reconnu par la mère. (il serait actuellement colonel). Le capitaine B. de la caserne de Aïn Naadja avait reconnu l'enlèvement et avait promis à sa mère de le libérer dans un mois.

Bakhta Belkacem, né le 21 septembre 1963, célibataire, sans profession, malade mental, en traitement en psychiatrie, demeurant El Maqaria (Alger), arrêté le 26 mars 1995 à 15h 15 à son domicile par des nindjas venus à bord de Nissan. .

Baïtiche Madani, né le 28 septembre 1968, célibataire, chauffeur de profession, demeurant à Ouled Athmane, Bordj Zemmoura (Bordj Bou Arréridj), arrêté le 4 avril 1995 Enlevé le 4 avril 1995 à 14 h à un barrage de police (intervention rapide) à BBA près de la station d'essence Mounia en plein centre ville. Il était dans sa voiture (505 Peugeot) qui a disparu aussi. Une enquête a été faite par la gendarmerie en 1998. Correspondance avec toutes les autorités en 1997.

Bakir Djamel, né le 10 mai 1970, demeurant à Bourouba (Alger), célibataire, sans profession. Arrêté le 21 février 1996 à une heure du matin au domicile de son oncle à Beaulieu par des militaires et policiers. Ces dernières s'étaient d'abord rendus au domicile familial et ont arrêté la mère pour qu'elle leur indique le lieu où se trouvait Djamel. Plainte au niveau du tribunal de Hussein-Dey le 6 juillet 1997, lettres ministères, ONDH, Médiateur, Président de la R...

INDE
India justice, the vistim : Gujarat state fails to protect women from violence
by Amnesty International & SACW (2005,pdf)
In Bad faith? British Charity & Hindu Extremism by Awaaz(South Asia Watch & SACW, 2004,pdf)
Global war on terrorism and democratic rights by Tapan Kumar Bose
" The theme of terrorism dominates the mass media today and this daily onslaught on our senses by the print and the electronic media is building "terror hysteria". The media campaign projects "terrorism" as a philosophy of perpetual violence, which intends to terrorize the masses and destroy the civilized world. It seems that the exponents of "terrorism" aim to create a state of permanent chaos. Terrorism is the evil spirit of the nether world, which corrupts the souls of the people it touches and turns them into devil. The terrorists therefore, are a bunch of demented killers - the barbarians of yore who only want to create anarchy.
The United Nations has been concerned with terrorist crimes at the international level for quite some time. Between 1970 and 1999 at least about 10 international conventions were adopted, which defined various "terrorist" activities and empowered international and national law enforcing agencies to take preventive action and punish the perpetrators. (Copies of all these conventions and treaties may be obtained from: http://untreaty.un.org/English/Terroism.asp) The UN General Assembly had set up an Ad-hoc Committee on Terrorism in December 1996. The committee submitted its report in 2002. (Copy of report available from: http://www.un.org/terrorism/comesp.htm). The draft UN Comprehensive Convention on International Terrorism is still being discussed. However both the draft convention and the UN Security Council Resolution 1566 of 2004 define terrorism only in terms of activities and not as an ideology or a philosophy or as a belief system. Paragraph 3 of the UNSC Resolution 1566 defines acts of terrorism as "criminal acts, including against civilians, committed with the intent to cause death or serious injury, or taking hostages, with the purpose to provoke a state of terror in the general public or in a group of persons or particular persons, intimidate a population or compel a government or an international organization to do or to abstain from doing any act". (http://www.un.org/terrorism) ...."
IADL (the International Association of Democratic Lawyers) : Tribunal on the Invasion of Iraq, May/June 2004
XVIème Congrès de Juin (7th 11th) 2005, Paris, Law and Lawyers in the service of people for peace, justice and development
The democratic lawyers, judges, jurists, law teachers and students as well as others interested in its themes are invited to participate in the XVIth Congress of the International Association of Democratic Lawyers [IADL] at Paris (France) on June 7-11, 2005 on the theme:
Law and Lawyers in the Service of the People for Peace, Justice and Development
The IADL, in consultative status with Economic and Social Council (ECOSOC) of the United Nations, UNESCO AND UNICEF, was established at Paris in 1946 with Mr. Rene Cassin as its first President.
The objects of IADL, as amended at its XIVth Congress at Cape Town, South Africa, amongst others are:
(a)To facilitate contact and exchange of views between lawyers and lawyers' associations of all countries and to foster understanding and goodwill among them.
(b)To work together to achieve the aims set out in the Charter of the United Nations.
(c) To ensure common action by lawyers:
(i) to encourage in the realm of law the study and practice of the principles of democracy
(ii) to restore, defend and develop democratic rights and liberties in legislation, and in practice
(iii) to promote the independence of all peoples and to oppose any restriction on this independence whether in law or in practice
(iv) to defend and promote human and people's rights
(v) to promote preservation of ecology and healthy environment
(vi) to struggle for strict adherence to rule of law and independence of judiciary and legal profession.
(vii) To defend people's rights to development and for creation of conditions of economic equality, enjoyment of fruits of scientific progress and natural resources.

XVème Congrès d'octobre 2000, la Havane, Cuba
Many hundreds of democratic lawyers, jurists, legal educators and law students from 56 nations throughout the world gathered in Havana, Cuba, October 16-20, 2000 at the XVth Congress of the International Association of Democratic Lawyers (IADL) organized jointly with the XIIth Congress of the American Association of Jurists (AAJ) on the theme: Establishing a just international legal order..

Themes of XVth Congress
THE RIGHT TO PEACE AND INTERNATIONAL SECURITY; THE DEMOCRATIZATION OF INTERNATIONAL ORGANIZATIONS
Topics on which papers were presented included:
• Performance and Compliance Under the Charter;
• The Role and Limitations of the Security Council;
- The Use of Nuclear, Chemical and Germ Warfare;
- Coercive Economic Blockades as Political Weapons;
- The Last Colonial Enclaves and Foreign Occupations of Military Bases;
- Implementing the Decisions of the International Court of Justice
THE ROLE OF STATES AND THEIR LEGAL SYSTEMS IN CONTROLLING THE GLOBAL ECONOMY: GLOBALIZATION
Topics on which papers were presented included:
• Globalization and the Impact of the Policies of International Financial Organizations (IMF, World Bank, among others) on National Economies;
• Structural Debt;
• Multilateral Trade Agreements and Their Impact on Workers Rights;
• The Protection of Intellectual Property Including Biological and Information Technology;
• The Unique Status of Medical Products.
• Transnational Global Investments
DEMOCRACY AND HUMAN RIGHTS THEORY AND PRACTICE
Topics on which papers were presented included:
• Achieving the Principals of the Universal Declaration of Human Rights;
• Racial and Ethnic Discrimination;
• The Rights of Women, Children, and Youth,
• The Status of Immigrants and Refugees;
• Labor Rights;
• The Right to a Healthy Environment and the Benefit of Natural Resources and Civil and Criminal Responsibility for Their Destruction;
• Separation of Powers,
• Non-voting Electorates;
• Political Corruption and Unethical Behavior in Democratic Societies.
ACCESS TO JUSTICE: THE INDEPENDENCE OF THE JUDICIARY AND THE PREPARATION AND PRACTICE OF LAWYERS
Topics on which papers were presented included among others:
• Independence of the Judiciary,
• Transnational Crimes Including Drug and Human Organ Trafficking,
• Money Laundering,
• The Traffic in Children for Adoption;
• The Prosecution of White Collar and Corporate Crime,
• Race and Class of Lawyers;
• Alternate Modes of Conflict Resolution;
• Protecting Due Process in Criminal Prosecutions;
• Social Responsibility and Professional Ethics in the Legal Profession.

Final declaration of the Asociacion Americana Juristas and of the XVth Congress of the IADL
THEREFORE A.A.J. and I.A.D.L. jurist delegates:

DECLARE that we are convinced of the role that our profession imposes upon us to perform in each and every one of our countries as part of the struggle to attain true democracy and the real exercise of Human Rights, at this particularly serious time in the history of mankind that requires our intelligence and prudence and at the same time our audacity and profundity.

ARE CONVINCED OF THE FACT THAT we are living amidst a wave of violence and intensification of war conflicts that are causing the most serious and massive violations of Human Rights and thus are increasing the suffering of peoples from all over the world. Regardless of the disappearance of the East-West confrontation, the arms race, instead of ceasing, has not even diminished, and the astronomical figures invested in sophisticated weapons are offensive to the pain and frustration of thousands of millions worldwide, who would witness a considerable improvement of their bitter existence with just a small per cent of the resources presently being spent for the brutal purpose of fabricating weaponry. Consequently, we urge the United Nations and, especially, the Disarmament Committee, to set forth and define actions in pursuit of disarmament that make it possible without any limitations or conditions whatsoever to allocate the funds currently invested in the arms race in the development of the Third World countries.

CONDEMN the irresponsibility of the first world's main centers of power that, in their eagerness to make profits, are killing the global through the implementation of uncontrolled technologies, the indiscriminate use of resources and a complete disregard for nature. These centers, of power have endangered life in the planet and are now accusing the Third World countries of being the predators of the Earth's riches are despoiling the paths of development for poor countries and destroying the natural environment with impunity. To this end, we propose that our organizations of jurists devise plans to exert influence on the United Nations and its specialized agencies develop formulating realistic and radical policies to protect the environment, and, at the same time, organizations standing for the defense of the environment that are provided political and juridical support, as well as legal assistance in their struggle against predators. Furthermore, we call our affiliates to cooperate in the establishment of legislation that provides guarantees for the national, regional and international protection of the environment.

ASSUME WITH FULL RESPONSIBILITY that we are facing a politically and militarily unipolar world in which unrestrained intercapitalist competition is maintained and strengthened under the aegis of the neoliberal economy globalization. Within this context, the widening gulf separate the North, achieving unprecedented levels of development, from the South, where living conditions are inadequate to sustain the health and well being of its peoples...

Appel for peace and development for the IIIrd conference of lawyers of Asia and the Pacific (COLAP) Hanoï Vietnam
As we enter the 21st century, we Asian-Pacific lawyers committed to peace, human rights, and development under globalization participated in the hird Conference of Lawyers of Asia and the Pacific sponsored by the Association of Vietnam Democratic lawyers in Hanoi 9-20 October 2001. We pledge to work for peace and the advancement of Asian and Pacific peoples, and make this appeal to the citizens of the world...
We protest the continued presence of U.S. and foreign troops in South Korea, Okinawa, and other permanent military bases in East Asia and in the Indian Ocean. We condemn terrorist acts and support all efforts aimed at eradicating terrorism from the life of humanity. We can not by any means agree with the current war against Afghanistan in the name of anti-terrorist defense, without the UN Security Counsel's approval and against international law as well as Article 51 of the UN Charter, which is causing increasing death, suffering and destruction among innocent people, and therefore must be stopped. It is our strong hope that the peaceful reunification of the Korean peninsula in the spirit of the Joint Declaration signed between leaders of North and South Korea, and the peaceful resolution of the conflicts between Palestine and Israel leading to the establishment of State of Palestine, and the peaceful solution of conflicting claims relating to a number of archipelagoes and islands will be achieved in accordance with the universal principles of international law.
We also note that the missile defense program promoted by the Bush Administration violates international disarmament treaties, especially international pledges for nuclear disarmament. We express deep concern over cooperation with the program by Asia-Pacific governments, and demand that they immediately halt all actions that aggravate military tensions...

International headquaters
Brussels/office of the President, Jitendra Sharma/India
Some Highlights of IADL Activities 1946-2002
TMLDAILY (The Marxist-Leninist Daily On-Line Newspaper of the Communist Party of Canada)
1946 — Founded October 24 in Paris by gathering of lawyers who had survived the war against fascism and participated in the Nuremberg Trials. Rene Cassin, a drafter of the Universal Declaration of Human Rights, named first IADL President.
1947 to date — IADL supports the total ban of Nuclear arms.
1947-1949 — Annual IADL Congresses convene in Brussels '47, Prague'48, and Rome'49.
1950 to date — Challenges the global proliferation of nuclear weapons and supports peaceful resolution of international disputes.
1951 — IADL condemns the tyrannical and repressive regime of the Shah of Iran
1952-1996 — IADL begins its support of the African National Congress, starting with the Campaign of Resistance Against Unjust Laws.
1953 — Lawyers meetings convened in Rio de Janeiro ('52) and Guatemala City (53') culminating in the organization of the American Association of Jurists (AAJ) which becomes an affiliate member of IADL. First Pan Asian IADL Conference held in Calcutta.
1955 — IADL supports the African National Congress Freedom Charter...

Lawyers Charge US With Crimes Against Humanity/statement of the International Association of Democratic Lawyers
by President Jitendra Sharma (IADL,New Delhi, India)

(Casis-Analysis) Proposed 'Nuremberg' Tribunal for Iraq Archives
What's about CASI (Campaign Against sanctions on Iraq/Cambridge Solidarity with Iraq) Archives
Iraq Analysis Group
The Iraq Analysis Group aims to make it easier to find information about Iraq, and to advocate a policy that recognises the special responsibility for the wellbeing of Iraqis that our government's invasion of their country entails. We hope you find the site useful. Comments are welcome.
This site was set up in 2004. Current contributors include Jim Cust, Yousef Ghazi-Tabatabai, Daniel O'Huiginn, Alison Klevnas, Per Klevnas, Rachel Laurence, Michael Lewis, Jonathan Stevenson and Liam Wren-Lewis.

The Rising Costs of the Iraq War
In the 2003 Budget the government set aside £3 billion to cover "the full costs of the UK's military obligations" in Iraq[1]. In the past three years the amount allocated to this 'Special Reserve' has steadily increased, and with an extra £800 million in this year's Budget the total is now over £6.4 billion. A recent Freedom of Information request suggest that over £4.5bn of this reserve has been spent on the conflict in Iraq. This is in addition to recent increases in general military spending. This briefing investigates the financial costs of the Iraq conflict to the UK taxpayer. It notes a significant opaqueness in the budgeting process as well as the potential for costs to continue to escalate.
The financial costs of a war may not be the first consideration. War brings many costs, foremost in lives lost and damaged. However, the decision to involve the UK in the invasion of Iraq had substantial implications for UK public spending. Money spent on the Iraq war and wider 'war on terror' represents significant diversions from other government budgets.
The lack of transparency in the UK finances is in contrast to the US, where all budgetary proposals must be scrutinised by Congress. Comprehensive information about US military spending is available and has contributed to considerable public debate. The sums spent by the US government are many times those of the UK, and there are a number of projects aimed at publicising the scale of US war spending (e.g. http://costofwar.com)....

Denial of Water to Iraqi Cities
Water supplies to Tall Afar, Samarra and Fallujah have been cut off during US attacks in the past two months, affecting up to 750,000 civilians. This appears to form part of a deliberate US policy of denying water to the residents of cities under attack. If so, it has been adopted without a public debate, and without consulting Coalition partners. It is a serious breach of international humanitarian law, and is deepening Iraqi opposition to the United States, other coalition members, and the Iraqi government. ...

Responses to the 'Lancet Report' on Post-Invasion Mortality in Iraq (Nov 2004)
On 29 October, the Lancet, an eminent British medical journal, published a study by a team of researchers from the John Hopkins Bloomberg School of Public Health entitled "Mortality before and after the 2003 invasion of Iraq" The authors concluded that
"making conservative assumptions, we think that about 100 000 excess deaths, or more have happened since the 2003 invasion of Iraq. Violence accounted for most of the excess deaths and air strikes from coalition forces accounted for most violent deaths."..

Fire Bombs in Iraq
Both the UK and US authorities now admit that the napalm-type weapon known as the 'MK77 firebomb' was used during the invasion of Iraq. This section contains the briefing and press releases which the Iraq Analysis Group has produced on the topic, plus links to evidence of MK77 use during the continuing conflict. We also include information about the controversial weapon White Phosphorus...

ALU-Arab Lawyers' Union / IADL
ALU is a pan-Arab confederation of bar associations and law societies.
Mission :
To develop the profession of lawyer in the Arabic countries to make it a true auxiliary of justice
To work for the independence of the judiciary power
Contribute to the development of the law and to the unification of laws and legal nomenclature in Arab countries
Promote and protect human rights, basic freedoms and the primacy of law
Participate in the decolonization of the Arab Countries, to their liberation and the establishment of social justice ...

The Arab Lawyers Union Official : No Committee To Defend Saddam (Iraqi Newspaper Clippings Archive, 30.12.2003)
Arab lawyers in Saddam defence (Herald Sun 29.03.2004)
Arab lawyers to try US, British officials for crimes against Iraq
by Xinhua (China/Amman, 14.02.2004)
Arab lawyers denounce US meddling
by Ahmed Janabi (News Arab World/Damascus,16.03.2004)
JALISA-Japan Lawyers International Solidarity Association / IADL
Welcome to JALISA
Article 9 From World Civil Society
* Ten Fundamental Principles for a Just World Order, in The Hague Appeal forPeace Civil Society Conference, The Hague, May 15, 1999
** The Resolution on Article 9 of the Constitution of Japan adopted by the XVIth Congress of the International Association of Democratic Lawyers, Paris, June 11,2005
*** Agenda of the Global Partnership for Preventing Armed Conflicts, adopted by the United Nations, General Assembly, New York, July 19-21, 2005
-- Article 9 --
Aspiring sincerely to an international people based on justice and order, the Japanese people forever renounce war as a sovereign right of the nation, and the threat or use of force as means of settling international disputes.
In order to accomplish the aim of the preceding paragraph, land, sea, and air forces, as well as other war potential, will never be maintained. The right of belligerency of the state will not be recognized.(Chapter ?of the Constitution of Japan, 1946)...
"WE, the Lawyers, participating in the XVIth Congress and General Assembly of the IADL in Paris, on June 7 to 11, 2005, and having in mind our long history of struggles for peace recognizing that Article 9 of the Constitution of Japan of 1946 stipulates total renouncement of war whatsoever; that in this regard Article 9 has been a target of severe political struggles between peace-loving people and conservative forces in Japan for about 60 years; and that the Japanese conservative forces ignite, having taken a way to militarization as early as in 1990's, actions to put their cases into reality. Confirming that a change of Article 9 is not only a narrow item of internal affaires, but a grave concern of international community alike, as it was born out of sincere regrets towards the calamity of World War Two as well as the colonial rules over Asian region, both of which were no mischief, but tragedies played by Japan to the point that it is too natural for the Japanese nation and people alike to make a pledge of peace to the nations and peoples in the world..."

LAWASIA Statement on violence against Judges and Lawyers in the Philippines
"LAWASIA, the Law Association of Asia and the Pacific, notes with great concern the growing incidences of violence towards judges and lawyers in the Philippines whilst in the process of carrying out their duties. We refer specifically to recent reports indicating the brutal killings of three lawyers, Norman Bocar, Eugenia Campol and Victor Padilla, as well as the recent assassination of Judge Estrellita Paas..."

JALISA Statement on the attacks against Judges and Lawyers in the Philippines
"During recent years in the Philippines there have been frequent instances in which lawyers, social activists, and religious workers are assassinated or intimidated. This year already four lawyers have been killed. Even the well-known democratic lawyer Romeo Capulong, who served as an Ad Litem Judge of the UN's International Crime Tribunal for the Former Yugoslavia, was attacked by someone. It has been observed that there is Philippine military involvement behind such incidents.
Needless to say, the International Covenant on Civil and Political Rights guarantees the inalienable right to life, and the right to be free of unlawful interference in one's private life, residence, and family. People have the freedoms of thought and creed, and the freedom to hold opinions without interference, and they naturally enjoy the freedom of expression.
If lawyers, social activists, and religious workers who support poverty-afflicted people find their right to live infringed or when their lives are exposed to danger because of their work, it means their basic freedoms and rights are not guaranteed. When those who support the people are violently attacked, it is even more difficult to remedy rights violations against most of the people..."

COLAP4 Seoul Declaration 2005
"WE, lawyers and citizens of Asia and the Pacific and other regions of world,
meeting at Seoul in the Republic of Korea, for the Fourth Conference of Lawyers in Asia and the Pacific (COLAP4) on September 2~3, 2005;
EMPHASIZING that peace on the Korean peninsula and in Asia and the Pacific region is vital for the world peace,
RECOGNING that the Continent of Asia is undergoing a dramatic economic transformation accompanied by wars of aggression on the people of Asia,
CONFIRMING the need for peace and solidarity movements to secure human rights,
CONVINCED that we can build interdependent relations to contribute to world peace and development,
HAVING EXCHANGED VIEWS and arrived at a common perception on the perspective for "Peace, Human Rights, and Co-existence in Asia and the Pacific."
Adopt unanimously the following declaration
1. The right to live in peace must be guaranteed for realization of human rights of the people in Asia and the Pacific and conflicts and disputes between nations and peoples should be prevented and resolved by peaceful means, within a fair and just framework of dialogue and negotiations, on the basis of equality of nations and peoples.
2. We condemn the United States led wars of aggression in Afghanistan, and in Iraq for economic, political and military dominance of the region with the use of weapons illegal in accordance with international law. We call for immediate withdrawal of United States military forces from Iraq and Afghanistan and troops of other countries, including military forces of Korea and Japan from Iraq. We support the right of the people of Iraq, Palestine, and Afghanistan to self-determination; and call for restoration of democracy in Nepal and Burma.
??
3. We oppose the impositions of sanctions, including economic and political sanctions on the people of any country, under the pretext of eliminating weapons of mass destruction; we also oppose alleged anti-terrorism measures which violate human rights of the people in countries where these measures are imposed.
4. Defense pacts and agreements of rival governments entered into in several regions of Asia including the race for nuclear and conventional armaments, are leading to heightened mutual suspicions. The ongoing military exercises recently conducted in the region are escalating tension and militarization. The US military strategy of rapid forces deployment and military bases in various Asian countries are accelerating military alliances, and are a threat to the peaceful existence of the people of Asia.
5. We oppose the change of Article Nine of Constitution of Japan, as the principle of pacifism embodied in Article Nine reflects the constitutional guarantee of the people of Japan to the people of Asia and the Pacific to prevent the reoccurrence of another aggressive war. Distortion of history should be refrained from, as it prohibits future generations from correctly understanding Japan's war responsibility. The principle of Article Nine of the Constitution of Japan can serve as an inspiration to peoples in the region and throughout the world.
6. Human rights of the people in Asia and the Pacific continue to be violated in many countries and this must be condemned. In the Philippines, several lawyers who represented people's causes and judges have recently assassinated, reflecting on the situation in the region. The rights of migrant workers and casual workers have been disregarded in many countries, [and] this needs to be rectified. Joint efforts and campaigns against multinational corporations and companies violating the basic rights of workers are vital and for this purpose an Asian Human Rights Charter must be drafted.
7. We oppose the ideology of neo-liberal globalization adversely impacting on the lives of workers and farmers, destroying livelihoods, increasing exploitation and hazardous working conditions, with diminishing social security and no health care.
We desire that the dignity of the people of the Asia Pacific region be respected, their aspirations for equality, justice, and democracy be realized.
We believe the peaceful reunification of the Korean peninsula will initiate the continuing process of the peaceful co-existence of peoples in Asia and the Pacific at large.
We pledge our utmost efforts and cooperation for such an initiative."

IADL Resolution on Article 9 of the Constitution of Japan
"WE, the Lawyers, participating in the XVIth Congress and General Assembly of the IADL in Paris, on June 7 to 11, 2005, and having in mind our long history of struggles for peace,
Recognizing that Article 9 of the Constitution of Japan of 1946 stipulates total renouncement of war whatsoever; that in this regard Article 9 has been a target of severe political struggles between peace-loving people and conservative forces in Japan for about 60 years; and that the Japanese conservative forces ignite, having taken a way to militarization as early as in 1990's, actions to put their cases into reality.
Confirming that a change of Article 9 is not only a narrow item of internal affaires, but a grave concern of international community alike, as it was born out of sincere regrets towards the calamity of World War Two as well as the colonial rules over Asian region, both of which were no mischief, but tragedies played by Japan to the point that it is too natural for the Japanese nation and people alike to make a pledge of peace to the nations and peoples in the world..."

IADL Resolution on Okinawa:Encouraging and Supporting Okinawan People's struggle for Peace and Environment
"The XVIth General Assembly of the International Association of Democratic Lawyers,
Paris, June 7 to 11, 2005 The International Association of Democratic Lawyers, rallying in Place de la R?publique, Paris, on June 7 to 11, 2005 for a just cause concerning world peace and human rights,
Recalling that a US Marine CH-53D helicopter's crash on ground in a university campus in Okinawa, on August 13, 2004 revealed again one-sided positioning of the US military forces in Japan;
Taking note that a so-called agreement in SACO (Special Action Committee on Okinawa) between the both governments of Japan and the USA reflects no real aspiration of Okinawan people who have long been asking for reduction or removal of US military facilities in their homeland;
Considering that any project of huge off-shore construction for military use in Okinawa will aggravate undue burdens already heavily shouldered on Okinawan people, and cause irreparable damages to their environment, which may go counter to people's long-cherished worship at living creatures;
Having in mind that the on-going realignment of US military forces, together with reinforced military strengths of Japanese Self-Defense Forces, will reinforce US world hegemony to the detriment of peace loving peoples in preventing any initiative for peace-building or pouring fuel into a fire of conflicts;
Welcoming enthusiastically 23,850 peace activists' initiative to encircle Futamma military base in Okinawa on the 33rd anniversary of recovery of administration over its soil from US military authorities;
CALLS attention of every lawyer and citizen in the world to Okinawan People's continuous and courageous struggles for peace and environment;
EXPRESS and CALLS for international solidarity with Okinawan people in their struggle to live and let live others URGES immediate renouncement of off-shore construction for military use in Okinawa;
DEMANDS definite removal of all US military facilities from the soil of Japan..."

Profile
Foundation
"When the 1st Asian Lawyers' Conference convened on the initiative of the International Association of Democratic Lawyers (IADL) in Calcutta in January 1955, Japanese lawyers dispatched a delegation to this Conference. In due course, the preparatory activities for the Conference led to the foundation of the Japan Lawyers International Solidarity Association (JALISA) in April 1957. The Association becomes a member of IADL soon after to engage in international solidarity activities as one of leading organizations of democratic lawyers in Japan.
The Association has not only sent its delegation to various international conferences, but has also endeavored to establish friendly relations with democratic lawyers of many countries.
As lawyers of Japan, the only A-bombed country in the world, it has also pursued efforts for the elimination of nuclear Weapons..."

Appeal : Resolution Censuring the Use of Force Against Irak
by Yoshihiro Eto, President (scholar on civil procedure law) / Osamu Niikura, Secretary-General, JALISA, 20.03.2003
Appeal : IADL Rejects any new US resolution as a pretext for War
by Jitendra Sharma, JALISA, 5.03.2003
Appeal by 1200 lawyers in opposition to attacking Iraq, JALISA, 12.02.2003
Calling All Asia-Pacific Lawyers !
by pr. Yoshihiro Eto, Osamu Niikura, JALISA, 11.05. 2001
Greetings for a new year at the beginning of the third Millenium
by Pr. Osamu Niikura (01.2001 JALISA-23rd General Assembly by (former president) Isamu Fujita (scholar on socialism), 16.12.2000

dDH site officiel
dDH, Hope on the Balkans Archaïve
site officiel de National Lawyers Guide
Centre de nouvelles des Nations-Unies, IRAK
Centre de nouvelles des Nations-Unies, Moyen Orient
Action de l'ONU contre le terrorisme (pour information)